Homemade turkey corn dogs with maple mustard
An easy homemade recipe for kids of any age to enjoy. By using quality ingredients, moms won't have to worry about preservatives and other unhealthy ingredients when serving up these delicious corn dogs.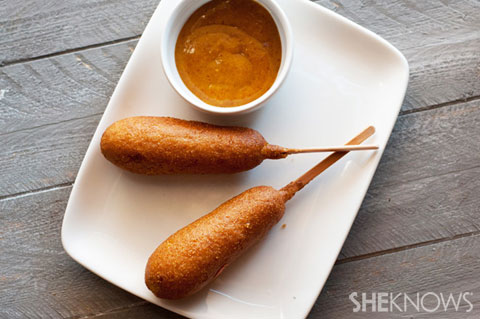 We all grew up munching on corn dogs but sometimes the ingredients in store-bought versions are far from healthy. As moms, we try hard to prepare our family's meals as healthy as possible especially for our little ones. In this recipe we used organic turkey dogs which contain no nitrates or preservatives. These can most always be found at your local healthy food store. We also swapped out the highly processed white sugar commonly used in corn dog recipes with pure all-natural maple syrup. The best thing about these corn dogs is that they make a large batch that you can freeze. Have a healthier alternative whenever you want!
Homemade turkey corn dogs with maple mustard recipe
Yields 16 servings
Ingredients:
For the corn dogs:
16 wooden skewers
2 (16 ounce) packages nitrate-free all-natural turkey dogs
1 cup all-purpose flour
1 cup yellow cornmeal
1-1/2 tablespoons baking powder
1/4 teaspoon salt
1/4 cup pure maple syrup
3/4 cup buttermilk
1 large egg
1 quart canola oil
For the maple mustard:
1/4 cup prepared yellow mustard
1/2 cup stone ground mustard
3 tablespoons real maple syrup
1 teaspoon apple cider vinegar
Directions:
In a small bowl, combine all the ingredients for the maple mustard. Mix well and set aside.
In a large bowl, combine the flour, cornmeal, maple syrup, baking powder and salt mixing well. Add in the buttermilk and egg and mix until the batter is smooth and there are no lumps.
Add the oil to a large sauce pot or Dutch oven and warm the oil over medium heat. Begin adding a wooden skewer to each of the turkey dogs.
In small batches of 3 or 4 begin to dip them into the batter until evenly coated and then place in the oil to fry. Cook the corn dogs for 3 to 4 minutes until they are a deep golden brown. Remove from the oil and drain on a cookie sheet lined with paper towels. Repeat with remaining corn dogs.
Tip: To freeze these, allow the corn dogs to cool completely. Wrap each corn dog tightly in plastic wrap and place them into a large freezer bag. Bake or microwave when ready to enjoy.
More homemade recipes for kids
5 Kid-friendly smoothie recipes
Healthy recipes for toddlers
5 Ways to get kids to eat healthy foods