Soba noodle soup with shrimp
When I'm busy running around town and don't have much time to cook, a quick soup is usually what I make. This is a delicious and comforting meal that you can easily alter. It's a Japanese noodle soup that combines healthy broccoli with shrimp and miso.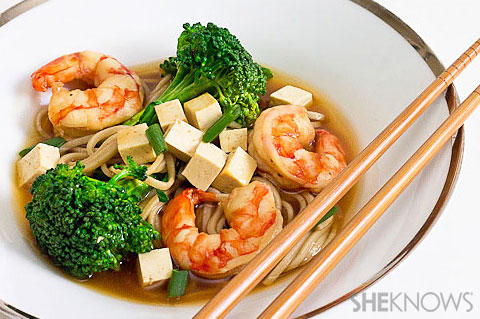 You can find the miso paste and soba noodles in most grocery stores in the Asian foods aisle. I love this super easy and adaptable noodle soup recipe. It's absolutely perfect for a chilly night in!
Soba noodle soup with shrimp
Yields 4 servings
Ingredients:
2 tablespoons miso paste
3 tablespoons hot water
1 tablespoon fresh grated ginger
6 cups low-sodium chicken broth
4 ounces soba noodles
2 cups broccoli florets
1/2 pound frozen uncooked shrimp
1/2 cup fresh green onions, sliced
1/2 cup tofu, cubed
Salt and red pepper flakes, to taste
Directions:
In a small bowl, whisk together the miso paste, hot water and ginger until miso has dissolved; set aside.
In a wok or large pot, boil the broth. Add soba noodles to the broth, and then cover and simmer for about 5 minutes. Place the broccoli florets and shrimp over noodles. Cover and simmer until the shrimp and broccoli are cooked, about 5 minutes.
Stir in the miso and ginger mixture. To taste, add salt and red pepper flakes, then add tofu and green onions.
More Asian recipes
Asian barbecue recipes
Asian cucumber salad recipe
Sweet and spicy Asian chicken recipe