Slow cooker pork and applesauce
Pork chops and applesauce made easy and essentially mess-free!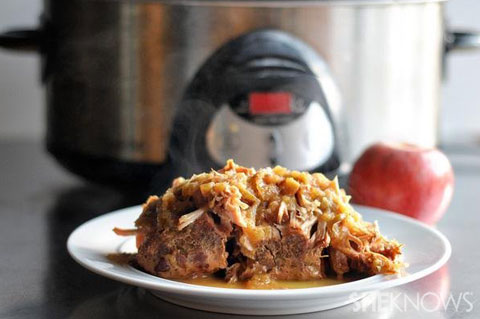 Slow cooker pork and applesauce
Serves 8-10
Ingredients:
1 (2-1/2 pound) pork tenderloin
2 teaspoons salt
1 teaspoon pepper
1 whole onion, sliced thin
1/4 cup apple juice
3 whole Granny Smith apples
1/4 cup sugar
1 teaspoon cinnamon
Directions:
Place the sliced onion in the bottom of the slow cooker.
Pour the apple juice into the slow cooker.
Rub the pork liberally with the salt and pepper and then place on top of the onions.
Cook on low for 4 hours.
After 4 hours, peel and chop the apples.
Toss the apples with the sugar and cinnamon.
Place the apples on top of the pork and cook on low for another 3 hours.
Remove the pork from the slow cooker to rest.
Stir together the apples and onions to make the sauce.
Turn the slow cooker to high and cook for another 15 minutes.
Serve the pork sliced or shredded with the sauce on top.
More delicious pork recipes
Beer marinated pork chops with peach salsa
Spice-rubbed pork tenderloin wrapped in bacon
Greek-style pork tenderloin with tzatziki