Homemade teddy grahams
Encouraging your kids to eat healthier isn't easy, especially when the snacks are ordinary and boring, like plain graham crackers. Give your kids a healthier snack and one they'll love eating by packing bags of these adorable homemade teddy grahams in their lunch!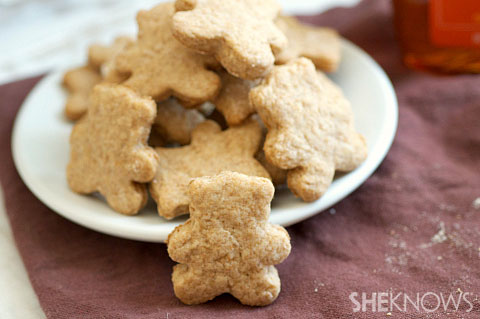 These slightly sweet and oh-so-cute teddy grahams are just like the ones we grew up eating, only far healthier (and not filled with things we can't pronounce). Plus, each little graham is loaded with whole grains so you can feel good about feeding them to your family (and eating about 10 of them yourself).
Homemade teddy grahams
Recipe inspired by Love it! by Morgan
Yields about 40 to 45 crackers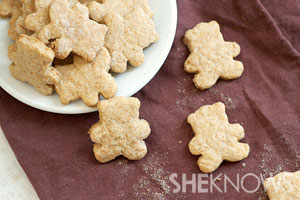 Ingredients:
1/2 cup all-purpose flour
3/4 cup whole wheat flour
1/4 cup brown sugar
2-1/2 tablespoons honey
1/2 teaspoon baking powder
1/4 teaspoon baking soda
Dash of salt
1/2 teaspoon pumpkin pie spice
1/2 teaspoon vanilla extract
4 tablespoons unsalted butter, melted
About 1/4 cup water or milk (we did half water, half milk)
Directions:
Preheat oven to 350 degrees F. Line 2 baking sheets with parchment paper and spray lightly with cooking spray.
In a large bowl, whisk the honey, vanilla, butter and water/milk together. In another bowl, stir the flours, sugar, baking powder, baking soda and pumpkin pie spice together. Make a well in the center of the flour and stir the mixture to combine.
Place the dough on a lightly floured surface and roll out to about 1/4 inch thickness. Using a mini teddy bear cookie cutter (we used the smallest one in this package) stamp out shapes (you'll get about 45 to 50 bears).
Place the teddy grahams on the parchment paper and bake for about 10 minutes or until golden brown.
More fun homemade snacks
21 Homemade snacks under 100 calories
Homemade all-natural fruit snacks
Ditch the goldfish: Homemade cheesy crackers