Cheesy hasselback potato recipe
Potatoes are a delicious side dish to any meal, but plain baked potatoes can become boring after a while. Hasselback potatoes are easy to make with twice the flavor of an ordinary baked potato!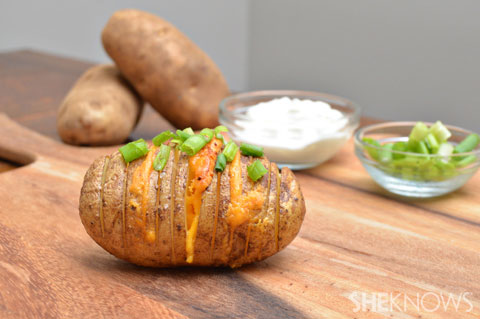 Cheesy hasselback potato recipe
Serves 4
Ingredients:
4 medium russet potatoes
4 ounces cheddar cheese
8 tablespoons softened butter
4 tablespoons olive oil
1/2 teaspoon salt
1/2 teaspoon garlic powder
Directions:
Preheat the oven to 400 degrees F.
In a small bowl, combine olive oil, salt and garlic powder.
Brush the olive oil mixture on the outside of the potatoes.
Place the potatoes on a cutting board and slice them crosswise in 1/4-inch slices, stopping about 3/4 of the way down the potato.
Slice the cheddar cheese into thin slices. Slide a cheddar cheese slice into every other slit in the potatoes.
Slice the butter into thin slices, and place a slice of butter into the remaining slits in the potatoes.
Place the potatoes on a baking sheet and bake in the oven at 400 degrees F or 30 to 40 minutes until the insides are tender and the cheese is lightly browned.
More potato recipes
Loaded baked potato rounds recipe
Homemade potato chip recipe
Sweet potato risotto