Bite-size caramel apple recipe
Caramel apples are a tasty fall treat, but biting into a whole caramel apple can be a challenge for little kids. Get all that caramel apple flavor in a smaller package with bite-size caramel apples that kids will love!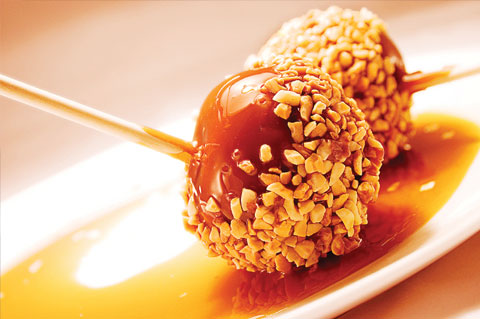 Bite-size caramel apple recipe
Makes 2 dozen apple pops
Ingredients:
8 large apples
2 cups sugar
1/4 cup light corn syrup
1/2 cup water
1/2 cup heavy whipping cream
1 teaspoon vanilla extract
1/2 teaspoon salt
Lollipop sticks
Nuts (optional)
Directions:
Slice the large apples in half, then use a melon baller to scoop out balls from the apple. You should get at least 4 balls per apple.
In a medium saucepan over medium-high heat, bring the sugar, corn syrup and water to a boil. Stir until the sugar dissolves completely.
Cook the mixture for approximately 10 minutes until it becomes a light amber color.
Stir in heavy whipping cream, vanilla extract and salt. Whisk the ingredients together until the mixture is smooth.
Reduce heat to low to allow the caramel to thicken up.
As the caramel cools, place a stick in each of the apple balls.
Once the caramel has thickened, dip the apple balls in the caramel to coat them.
If you are adding nuts, roll the caramel apples in the nuts, then allow them to cool and harden on a piece of parchment paper.
More apple recipes
Apple nachos recipe
Savory apple recipes
Apple pie cupcakes recipe