Breakfast whole wheat flour cobbler with berries
We love to eat this delicious berry cobbler for breakfast with coffee or tea. It's a healthy morning recipe made with whole wheat flour and you can use any combination of ripe berries that are in season. Made with less sugar and whole wheat, no one will know this berry cobbler is healthier than the traditional version.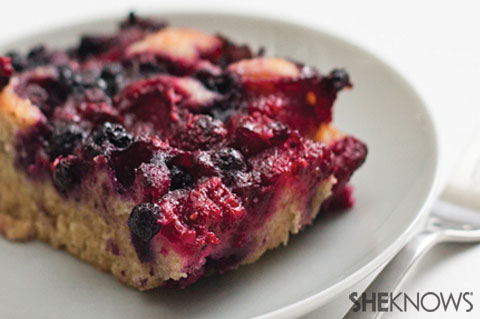 Experiment with different amounts of sugar, or even try substituting with agave nectar, maple syrup or natural honey. This recipe is made with a lower amount of refined white sugar and uses a bit of stevia, which is derived from the stevia plant. Serve with a side of plain yogurt.
Breakfast whole wheat flour cobbler with berries
Yields 4-6 servings
Ingredients:
4 tablespoons melted coconut oil or butter
3/4 cup whole wheat flour
1 tablespoon stevia
1/4 cup sugar
1 teaspoon baking powder
1/4 teaspoon salt
3/4 cup milk
2 cups berries (raspberries, strawberries or blueberries)
1 tablespoon sugar, for sprinkling
Directions:
Heat oven to 350 degrees F.
Place melted coconut oil or butter on the bottom of a 9-inch round pan or 8-inch square and set aside.
In a bowl, mix flour, stevia, sugar, baking powder and salt. Whisk in the milk until smooth, then pour batter into your pan. Scatter the berries over the top and sprinkle with the remaining sugar.
Bake for about an hour, until the berries start to bubble and batter is golden brown. Serve warm or room temperature.
More cobbler recipes
Vegan blackberry cobbler recipe
Apple-pecan cobbler recipe
3-Ingredient grilled peach cobbler recipe