3 Kid-friendly vegan recipes
Being the only vegan in a household of meat eaters isn't easy. But it's not as hard as trying to get your kids to eat the healthy and wholesome vegan dishes you enjoy. That's why we've whipped up these three delicious recipes that are not only vegan, but kid-stamped and approved!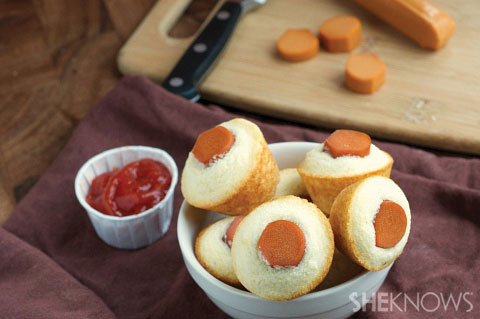 From mini vegan hot dog corn muffins to pumpkin carrot bread, these recipes are perfect for any fall activity, from game days to busy breakfasts to play dates! And if you don't think your kids will try soba noodles, just give them a taste, and they'll gobble it up faster than you! (We tried on our pickiest eaters, and there was barely any left for us!) 
Mini vegan corn dog bites
Recipe adapted from Iowa Girl Eats
Serves about 24
Ingredients:
For the corn muffins: 
3 tablespoons unsweetened applesauce
1 tablespoon melted Earth Balance
1 cup plain soy milk
1/4 cup sugar
1 cup cornmeal
2 tablespoons apple cider vinegar
1 tablespoon baking powder
1 cup all-purpose flour
Dash of salt
8 vegan and vegetarian hot dogs
Directions: 
Preheat oven to 375 degrees F. Grease a mini muffin tin with nonstick cooking spray.
In a large bowl, whisk the applesauce, earth balance, soy milk, sugar, cornmeal, vinegar and baking powder together. Add the flour and whisk to combine.
Cut the hot dogs into 1-inch pieces. Fill the muffin tins about 2/3 the way full with batter. Gently push a hot dog piece into the batter, enough so it sticks inside and the hot dog is visible from the outside.
Bake for about 10 minutes or until golden.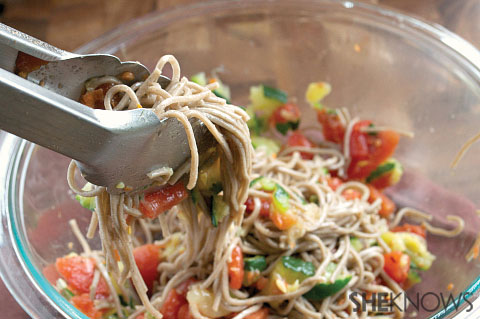 Sweet soba noodles
Serves about 4
Ingredients:
1/2 pound soba noodles (about 2 bundles)
1/4 cup honey
3 tablespoons soy sauce
2 tablespoons sesame oil
2 tablespoons white wine vinegar
1-1/2 cups sliced zucchini
1 (10.5 ounce) can diced tomatoes, drained
3 tablespoons shredded carrots
Salt and pepper to taste
Directions: 
Bring a pot of water to a rapid boil. Add soba noodles and cook until soft, about 3 to 4 minutes. Rinse and set aside.
Meanwhile, whisk the honey, soy sauce, sesame oil, vinegar and salt and pepper. Mix the noodles, zucchini and diced tomatoes together. Garnish with shaved carrots.
Drizzle the soba noodles with the dressing and serve immediately.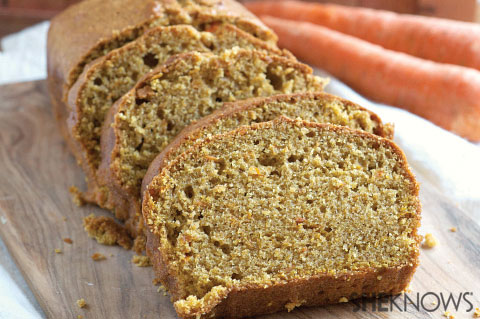 Pumpkin carrot bread
Adapted from Joy the Baker
Yields 1 loaf
Ingredients:
1-3/4 cups whole wheat flour
1/2 cup sugar
1/2 cup dark brown sugar
1/2 teaspoon baking powder
1 teaspoon baking soda
2 teaspoons pumpkin pie spice
1 cup pumpkin puree
1/4 cup unsweetened applesauce
1/4 cup canola oil
2/3 cup shredded carrots
3 tablespoons honey
3 tablespoons water
Dash of salt
Directions: 
Grease a standard size loaf pan with nonstick cooking spray. Preheat oven to 350 degrees F.
In the bowl of a KitchenAid mixer, beat the applesauce, oil, sugar and pumpkin puree together until soft and fluffy. Whisk the flour and other dry ingredients together.
Gradually add the whole wheat flour, baking powder, baking soda, pumpkin pie spice and salt to the mixer. Add the honey and water and mix to combine. Remove from the mixer and stir in the carrots.
Pour the mixture into the prepared loaf pan and bake for about 45 minutes.
More vegan recipes
Vegan cake batter ice cream recipe
Vegan pasta salad recipe
Vegan fettuccine Alfredo recipe