Baked potato with sour cream pizza
What could be better than a combo of two of your favorite meals for dinner? This pizza is sure to thrill, as it's part pizza, part baked potato!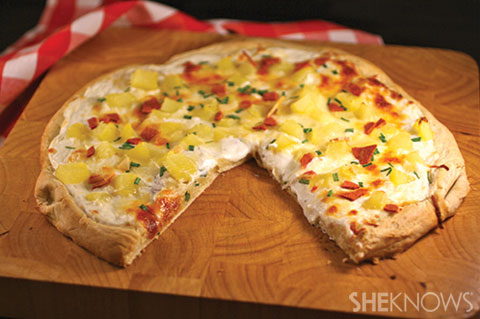 When you can't decide between baked potatoes and pizza for dinner, don't! This recipe for baked potato and sour cream pizza is the best of both worlds, and it's easy to toss together and serve up hot. Talk about a double whammy!
Baked potato with sour cream pizza
Serves 2-4
Ingredients:
1 pound prepared pizza dough
1 baking potato, precooked in the microwave about 3 to 4 minutes, then peeled and diced
1 cup light sour cream
1/4 cup ranch dressing
6-8 ounces shredded mozzarella cheese
3 slices bacon, cooked and crumbled
2 tablespoons chopped chives
Nonstick cooking spray
Directions:
Preheat your oven to 450 degrees F (or according to pizza dough directions). Lightly spray a round pizza pan with the cooking spray, and set aside.
Shape your pizza dough into a disk, about 10 inches in diameter. Gently place it on the pizza pan. Pre-bake the crust for about 5 minutes, then remove it from the oven.
Combine the sour cream and ranch dressing, then spread it over the pizza crust, just to the edges.
Sprinkle the mozzarella cheese over the sour cream mixture, then evenly spread the diced potato over the pizza.
Bake for 8 to 9 minutes, or until the edges begin to turn golden. Remove the pizza from the oven, then sprinkle on the crumbled bacon and chives.
Allow the pizza to sit for a few minutes, then slice and serve warm.
A double treat for dinner!
More dinner recipes
Buffalo chicken lasagna
Honey-glazed chicken kabobs
Blackened chicken Caesar pasta salad