Mini Butterfinger trifles
What do Butterfinger candy bars, brownies and whipped cream have in common? Well, for starters, this dessert. Made from layers of crispy, crunchy Butterfinger candies, whipped cream and brownies, this is one dessert you'll never want to share.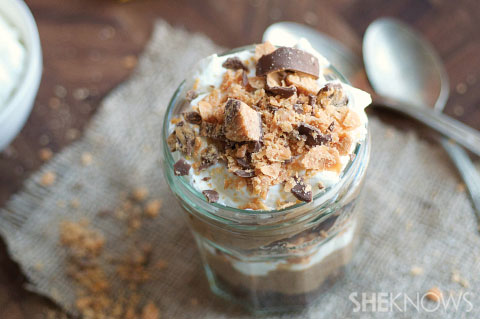 And you thought a Butterfinger couldn't possibly taste better than it does right out of the wrapper. This indulgent dessert is perfect for any kids' party or after-dinner dessert. Just be sure to call your kids in the moment it's ready, or else you'll end up eating the entire thing and waking up sick three hours later.
Mini Butterfinger trifles
Serves about 8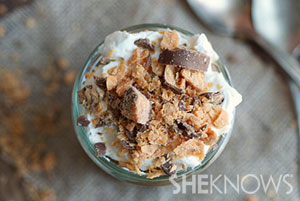 Ingredients:
1 package fudge brownie mix, prepared and cooled
10 ounces mini Butterfinger bars, chopped
2 cups chocolate pudding
1 carton frozen whipped topping
Mini chocolate chips for garnish
Directions:
Cut the brownies into 1-inch cubes. Line the bottom of mini Mason jars with half of the brownie bites. Press down lightly. Top the brownies with vanilla pudding, crushed candy bars, additional brownie bites and whipped topping. Repeat a second time until your jar is filled.
Garnish the top with more whipped cream, chocolate chips and Butterfinger bars.
More candy bar recipes
Bacon maple crunch bars recipe
Star spangled banner bars
Chocolate coconut bars recipe