Boston cream pie waffles
Who said you can't have pie for breakfast? Forget what your mom told you about when you can have dessert and have a big stack of Boston cream pie waffles this morning!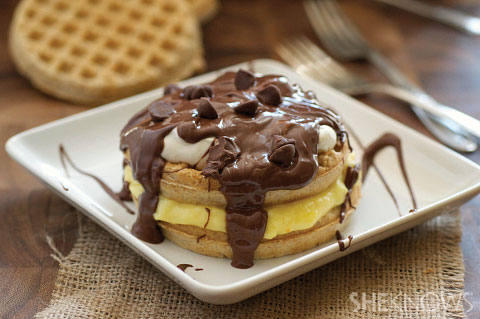 These sweet, decadent and beautiful breakfast stacks are the perfect answer to another boring brunch. Plus, what better way to start your day than with a big slice of pie, in waffle form? These will instantly make any day brighter.
Boston cream pie waffles
Serves about 4
Ingredients:
8 multigrain waffles
1 (4 ounce) package vanilla pudding
2 cups milk
1 cup freshly whipped cream
1/2 cup melted chocolate chips
Directions:
Toast waffles according to package, about 3 minutes. Let cool slightly.
Meanwhile, whisk pudding and milk together. Chill for about 5 minutes, or until thick.
Once chilled, place a hefty spoonful of pudding over the top of 1 waffle. Top with the second waffle. Then add about 1/4 cup whipped cream on top of the second waffle. Drizzle the top with 2 tablespoons of melted chocolate. Serve waffles immediately.
More fun breakfast recipes
Pizza for breakfast: 3 Tasty recipes
Breakfast ideas your kids will ask for
Bacon and egg toast cups recipe