Pumpkin blondies with cream cheese frosting
Pumpkin blondies with cream cheese frosting are the ultimate fall dessert. Spice and sugar and cream cheese make for one heavenly dose of sweet!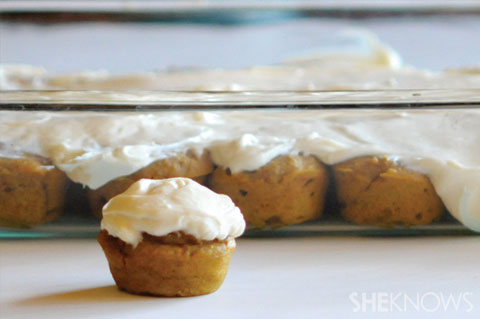 Pumpkin blondies with cream cheese frosting
Makes 1 (9 x 13-inch) pan or 36 bite-size blondies
Ingredients:
3/4 cup butter, softened at room temperature and divided
1-1/2 cups brown sugar
1 whole egg
1 teaspoon vanilla extract
2 cups pumpkin puree
2-3/4 cups flour
1 tablespoon pumpkin pie spice
1 teaspoon baking soda
8 ounces cream cheese, at room temperature
3 cups powdered sugar
Directions:
Preheat oven to 350 degrees F.
Grease a 9 x 13-inch pan or 12 mini muffin cups. Set aside.
In a large bowl, cream together 1 cup of softened butter and brown sugar until fluffy.
Add the egg, vanilla and pumpkin puree and combine until smooth.
Sift in the flour, pumpkin pie spice and baking soda.
Fold all ingredients together until well combined.
If making a large pan of blondies, spread the batter into prepared pan and bake at 350 degrees F for 45 to 50 minutes until a knife inserted comes out clean.
If making bite-size blondies, fill each mini muffin cup just to the top and bake at 15 to 20 minutes until just done. Bake in batches until the batter runs out.
Let the blondies cool completely before frosting.
To make the frosting, cream together the remaining softened butter and cream cheese until completely combined.
Add the powdered sugar and slowly mix into the butter and cream cheese mixture until completely combined and creamy.
Spread the blondies with the frosting.
Serve!
More decadent blondie recipes
Dulce de leche blondies
Peanut butter blondies
Butterscotch-coconut blondies