Chocolate-cinnamon waffles with salted caramel sauce
More dessert than standard breakfast, these waffles will satisfy your sweet tooth. They also make a special brunch even that much better!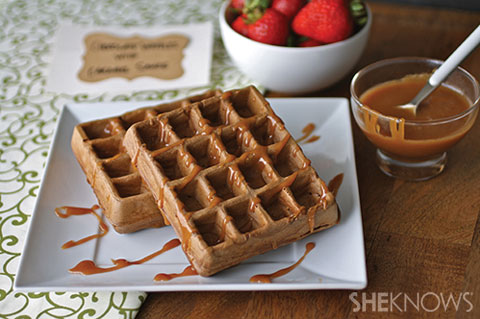 Who doesn't love waffles? This recipe for chocolate-cinnamon waffles with salted caramel sauce will take your taste for this standard breakfast treat to a new level. Serve these lovelies with the salted caramel sauce for dessert, and add your favorite vanilla ice cream or frozen yogurt if you'd like. Delish!
Chocolate-cinnamon waffles with salted caramel sauce
Yields 8 (6-inch) waffles
Ingredients:
For the waffles:
2 cups all-purpose flour
1/3 cup cocoa
2 tablespoons sugar
1 tablespoon baking powder
1/4 teaspoon salt
2 teaspoons cinnamon
2 eggs, beaten
1-3/4 cups milk
1/2 cup vegetable oil
1 tablespoon butter
For the salted caramel sauce:
1/2 cup butter
1 cup sugar
1/2 cup heavy cream
1/4 teaspoon sea salt
Directions:
Preheat your waffle iron to high heat.
Add all the dry ingredients to a medium bowl and whisk to combine.
In a separate bowl, combine the egg, milk and vegetable oil, and mix to combine.
Form a well in the center of the dry ingredients and add about 1/3 of the wet mixture. Stir to incorporate. Continue in increments until all of the wet mixture is added to the dry and the batter is smooth.
Brush the 1 tablespoon of butter over the waffle grill. Pour the batter into the waffle iron and cook until done.
As the waffles cook, prepare the salted caramel sauce by adding the butter and sugar to a saucepan over medium-high heat. Mix together until the sugar dissolves. Allow the mixture to boil, stirring. After a few minutes the mixture will turn a caramel color and thicken.
Remove the mixture from the heat and stir in the heavy cream, a little at a time, whisking to combine it. Add the sea salt to the mixture.
Allow the caramel to cool slightly, and then transfer it to a heat-resistant serving container.
Serve the waffles warm with the salted caramel sauce.
These waffles are wonderful!
More treats recipes
Peanut butter banana truffles
Fresh fruit and doughnut hole skewers with hot fudge dip
Simple lemonade frozen yogurt