3 Easy Halloween treats for the kids
These fun recipes are sure to keep little ones happy for hours! They get to make their own Frankenstein pudding cup, edible spiderwebs and candy cake bar treats.
These treats are spooky and perfect for your little helpers! You won't believe how much fun in the kitchen you and your family will have putting together these sweet and festive treats.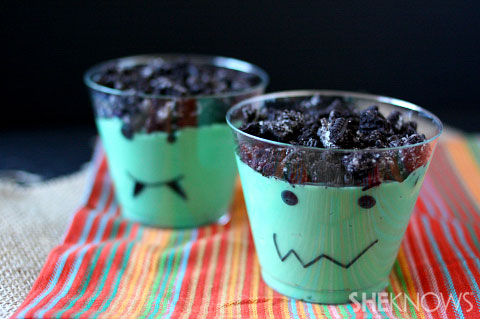 These fun Frankenstein cups can be customized to include just about any face you want to draw. Give the kids a marker and a plastic cup and let their imaginations run free.
Frankenstein pudding cups
Yields 4 pudding cups
Ingredients:
4 small clear cups
1 black marker (Sharpie works best)
1 large box vanilla instant pudding
Green food coloring
15 Oreo cookies
Directions:
In a large bowl, make instant pudding according to box directions.
Add a few drops of green food coloring and stir to combine. Add more food coloring if a deeper green color is desired.
Add Oreo cookies to the bowl of a food processor. Process until just a slight crumble remains.
Decorate 4 cups and fill each cup with pudding. Leave about 1 inch free from the top of the cup.
Fill to the top with crumbled Oreo cookies.
These candy cake bars are out of this world delicious. Total sweetness overload and made with special edition candy corn flavored M&M's.
Halloween candy cake bar treats
Adapted from Parent Pretty
Yields contents of a 9 x 13-inch pan
Ingredients: 
1 box yellow cake mix (dry)
1 small box instant butterscotch pudding
1/4 cup water
1/4 cup vegetable oil
2 eggs
1 cup candy corn flavored M&M's (plain M&M's work well too)
Directions:
Preheat oven to 350 degrees F and prepare a 9 x 13-inch baking dish with parchment paper, set aside.
In the bowl of an electric mixer, add cake mix, pudding, water, vegetable oil and eggs. Stir on medium until combined. Add in M&M's and stir in.
Add to prepared dish, press down and bake for about 25 minutes until golden brown.
Let cool and enjoy.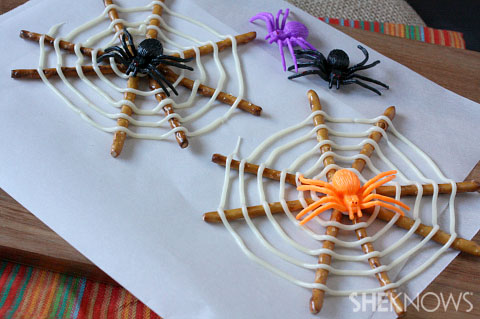 Spooky spiderweb pretzel treats are a fun way to get into the kitchen with your kids. Plus they will love all the fake toy spiders. Finally, a dish just for the kids!
Halloween pretzel spiderweb treats
Yields 4 spiderwebs
Ingredients:
32 pretzel sticks
1/2 cup melted white chocolate
1 plastic squeeze bottle
4 plastic spiders
Directions:
On parchment paper, lay out spiders by using 8 sticks per web.
Make sure the centers are touching so they will hold together.
Add melted chocolate to the plastic squeeze bottle and dollop a little melted white chocolate in the center of each web. Then working from the inside out, make a web pattern.
Continue until completed and then let cool and harden. Add a spider to each center to add a little Halloween flair.
More Halloween recipes
Mini scream face pizza recipe
Truly gross Halloween food recipes
Gluten-free pumpkin whoopie pie recipe