Dinner Shortcuts: Quick and easy pita pizza
Feel like making pizza but don't want to do all the work? We took bagels and topped them with your favorite pizza toppings. This is one fun and easy dish.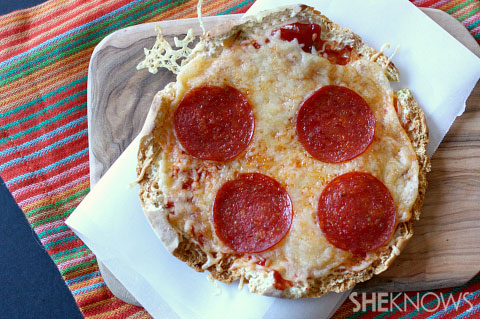 A quick dinner is sometimes needed. Maybe the kids have practice or you're just too tired to cook. Don't worry, we have you covered. This quick and easy pita pizza gives you a thin crust pizza flavor without paying the takeout price. So easy and so delicious!
Pita pizza
Yields 2 small pizzas
Ingredients:
1 pita pocket, cut in half and pulled apart
1/4 cup marinara sauce
1/2 cup shredded cheese
Toppings: pepperoni, cooked sausage, onions, green peppers, etc.
Directions:
Preheat oven to 400 degrees F and line a small baking sheet with parchment paper, set aside.
Spread out 2 tablespoons marinara sauce and 1/4 cup cheese onto each pita half.
Top with desired toppings.
Bake for about 10 to 15 minutes until cheese is melted.
More Dinner Shortcuts recipes
Corn dog muffin recipe
Taco mac casserole recipe
Oven baked meatball sub recipe