Dinner Shortcuts: Ravioli with sun-dried tomatoes and nuts
Want to serve a fancy dish but are short on time? We took store-bought ravioli and combined them with sun-dried tomatoes, fresh herbs and perfectly toasted nuts. You're going to love this dish.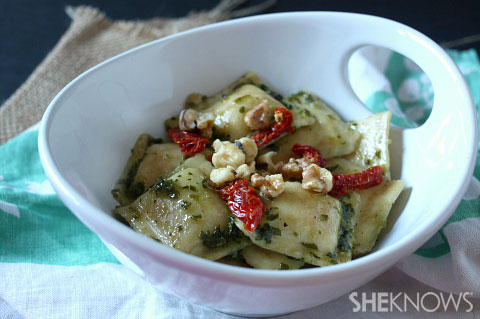 Store-bought cheese ravioli is a great base for a fast and simple weeknight dinner. You can dress it up or down in just about any way. This time we added lots of fresh chopped herbs, sun-dried tomatoes, a touch of good olive oil and a sprinkling of toasted nuts. It's a hearty and filling dish that can be ready in under 30 minutes and is sure to impress.
Ravioli with sun-dried tomatoes and nuts
Yields 4 servings
Ingredients:
1 pound frozen cheese ravioli
1/4 cup fresh chopped basil
1/4 cup chopped sun-dried tomatoes
1/4 cup chopped toasted nuts (walnuts or hazelnuts are a great choice)
Olive oil
Salt, to taste
Directions:
Place a large pot of water over high heat and bring to boiling.
When the water is boiling, add ravioli and cook according to package directions. Drain and add back to pot.
Add in basil, sun-dried tomatoes, toasted nuts and a few drizzles of olive oil. Stir. Add more oil if needed and a sprinkle of salt.
Note: This is also a perfect dish if you use leftover pesto. Simply leave out the basil and olive oil and replace with desired amount of pesto.
More Dinner Shortcuts recipes
Pesto chicken panini recipe
Easy edamame and bacon pasta salad recipe
Cheesy meatball-stuffed biscuit recipe