Dinner Shortcuts: Slow cooker cranberry sweet and spicy meatballs
Appetizers don't have to be labor intensive. With these sweet and spicy meatballs, you just set it and forget it!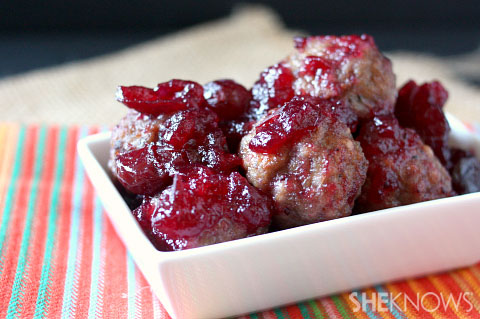 Do you need a quick and easy appetizer that is full of flavor? This simple recipe can be thrown together in five minutes and is fully cooked in just about three hours. You won't believe the flavor you get out of these simple little meatballs. It's also a great way to use up that lone can of cranberry sauce that has been hanging out in your pantry for the past year.
Slow cooker cranberry sweet and spicy meatballs
Yields 2 pounds
Ingredients: 
2 pounds frozen beef meatballs
1 (15 ounce) can whole berry cranberry sauce
1/2 cup ketchup
1/2 cup beef stock
1/4 cup dark brown sugar
2 tablespoons grated onion
2 teaspoons grated garlic
1 teaspoon grated ginger
1/2 teaspoon crushed red pepper (optional)
Directions:
In a large slow cooker, add frozen meatballs.
In a bowl, whisk together cranberry sauce, ketchup, beef stock, brown sugar, onion, garlic, ginger and red pepper.
Pour sauce over the meatballs and stir.
Turn the slow cooker on high and cook for about 3 hours.
More dinner shortcut recipes
Pizza crust focaccia recipe
Creamy refried bean dip recipe
Sorta homemade broccoli soup recipe