Dinner Shortcuts: Mexican shredded chicken chili over rice
Love chili but don't have the time to throw it together? This quick and easy shredded chicken chili is delicious and served over rice to make it even more filling.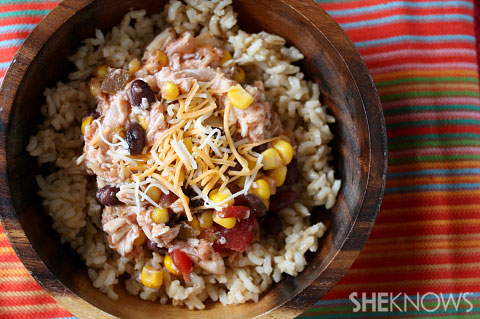 Chili doesn't have to take hours to simmer. This simple chicken chili packs tons of flavor but can be ready in less than 30 minutes. That's right, 30 minutes. Just wait until you dig into a bowl of this tasty dish.
Mexican shredded chicken chili over rice
Yields 4-6 servings
Ingredients:
1 rotisserie chicken, meat picked off
1 can corn, drained
1 can black beans, drained and rinsed
1 (12 ounce) jar medium salsa
1 (4 ounce) can chopped green chilies
3 cloves garlic, minced
2 tablespoons chili powder
2 teaspoons cumin
Salt and pepper, to taste
1 cup water
4 cups brown rice, cooked
Shredded cheese, optional
Directions:
In a large pot, add chicken, corn, black beans, salsa, green chilies, garlic, chili powder, cumin, salt, pepper and water.
Bring to a boil and let heat through.
If the soup is too thick, simply add more water.
Add rice to a bowl and pour soup over the rice. Top with shredded cheese if desired.
More Dinner Shortcut recipes
Greek meatball sliders recipe
Deep dish biscuit pizza recipe
Grilled chicken and hummus pita pockets recipe