Dinner Shortcuts: Cheese tortellini spinach bake
Short on time? We have taken store-bought cheese tortellini and paired it with fresh baby spinach and lots of creamy Alfredo sauce.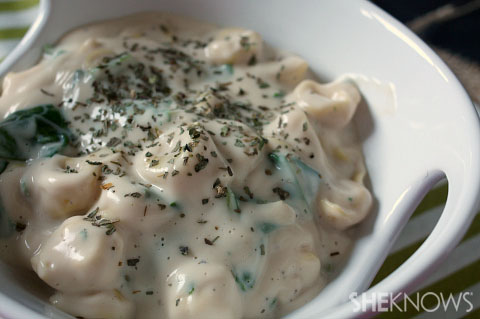 This dish is tasty and filling and utilizes the perfect time savers. Quickly cook up some cheese tortellini and mix with fresh baby spinach and creamy Alfredo sauce. This is one fast and delicious meal.
Cheese tortellini spinach bake
Yields 4 servings
Ingredients:
1 pound frozen cheese tortellini
2 tablespoons olive oil
1 small onion, diced
3 cups chopped spinach
1 clove garlic, minced
1 (16 ounce) jar Alfredo sauce
Directions:
Bring a large pot of water to a boil. Once boiling, add in tortellini and preheat the oven to 350 degrees F.
Once the tortellini are done, drain and set aside.
In a medium-sized oven safe skillet, add olive oil and set over medium heat. Add in onion and cook until soft.
Add in spinach and garlic. Saute briefly until spinach is soft. Add in tortellini.
Pour Alfredo sauce on top and bake for about 15 minutes until bubbly and hot.
More Dinner Shortcut recipes
Sorta homemade baked beans recipe
Corn, chicken and Fritos salad recipe
Enchilada bubble bake recipe