Dinner Shortcuts: Tomato soup mac & cheese
Tomato soup and mac and cheese might sound odd but trust us. This dish is easy and delicious.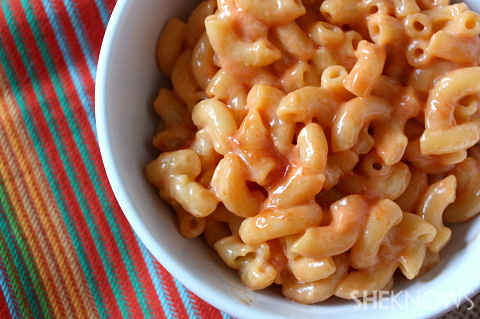 Tomato soup and macaroni 'n' cheese? I know it sounds like a weird combination but it's delicious. It's creamy, comforting and the perfect quick weeknight meal.
Tomato soup macaroni and cheese
Yields 4 servings
Ingredients:
1/2 pound elbow pasta
5 ounces ricotta cheese
5 ounces shredded sharp cheddar cheese
1 can condensed tomato soup
8 ounces whole milk
Salt and pepper, to taste
Directions:
Prepare pasta according to box directions and set aside.
In a large bowl, add ricotta cheese and add hot drained pasta on top. Stir to combine. Add in sharp cheddar cheese, tomato soup and milk. Season with salt and pepper.
Pour into an 8 x 8-inch casserole dish, sprinkle with a little more shredded cheese and bake for 25 minutes until warmed throughout.
More mac and cheese recipes
Crawfish mac and cheese recipe
Roasted poblano mac and cheese recipe
Four-cheese mac and cheese cups recipe