Cheesy pizza wheels
Pizza dough is stuffed with tomato sauce, cheese and any toppings your heart desires. Rolled up, cut into rounds and baked, these fun and easy pizza wheels are the perfect snack for kids.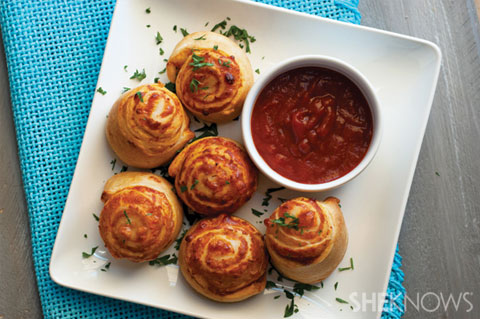 These super easy pizza wheels will put a smile on any kid's face! We used pre-made pizza dough but you can also use homemade dough or any other pizza dough you may have. Fill it with cheese and your favorite toppings — there is no wrong way to make these. This is also a great recipe to allow kids to help with.
Cheesy pizza wheels recipe
Yields 8-10 servings depending on size
Ingredients:
1 (11 ounce) can pizza dough (found in the refrigerated section of grocery store)
1/2 cup pizza or tomato sauce
1 cup shredded mozzarella cheese
1 teaspoon dried Italian herbs
Directions:
Preheat the oven to 350 degrees F and line a large baking sheet with parchment paper. Set aside.
Roll the pizza dough out into a large rectangle. Spread the tomato or pizza sauce evenly over the top of the dough and sprinkle the shredded cheese and dried herbs over the top.
Gently roll the dough up trying to keep it as tightly rolled as possible into a log shape (as if you were making cinnamon rolls). With a knife, cut the dough into rounds and place on the cookie sheet.
Bake 15 minutes or until the dough is completely cooked and the cheese is melted. Allow to cool slightly and serve warm with extra tomato or pizza sauce.
Tip: You can add any toppings you want to add such as pepperoni, black olives, onions, sausage or extra cheese.
More fun pizza-inspired ideas
Stuffed portobello mushroom pizzas
Easy bubble up pizza
Quinoa pizza bites