Spiced applesauce donut muffins
Spiced applesauce donut muffins are the best way to start a weekend or end a day. Perfectly moist and sweet muffins are dunked in a little butter and cinnamon sugar for a truly decadent start to the day!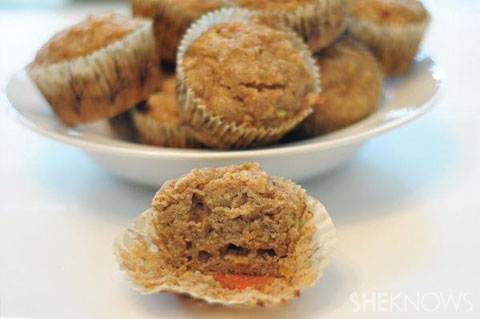 Spiced applesauce donut muffins
Makes 12 large muffins
Ingredients:
1 cup unsweetened applesauce
3/4 cup granulated sugar, divided
2 whole eggs
1 cup all-purpose flour
1 cup whole wheat flour
2 teaspoons baking powder
2 teaspoons pumpkin pie spice
1 teaspoon salt
1 large apple, grated to yield about 1 cup of grated apple
1/2 cup butter, melted
1 teaspoon ground cinnamon
Directions:
Preheat oven to 400 degrees F.
In a large bowl, whisk together the applesauce, 1/2 cup of sugar and eggs.
Sift the flour, whole wheat flour, baking powder, pumpkin pie spice and salt into the wet ingredients, and fold until just combined.
Fold in the grated apple until well incorporated.
Line a 12-cup muffin pan with muffin cups.
Scoop the batter evenly into the 12 muffin cups.
Bake at 400 degrees F for 15 minutes, or until a toothpick inserted comes out clean.
While the muffins are baking, stir together the cinnamon and remaining 1/4 cup of sugar.
When the muffins are done, allow to cool for about 5 minutes.
Carefully dip the tops in the melted butter, then roll in the cinnamon sugar.
Serve warm or at room temperature.
More delicious ways to bake with applesauce
Applesauce carrot muffins
Applesauce cinnamon rolls
Applesauce granola cookies