Creamy chicken spaghetti
Creamy chicken spaghetti is comfort on a plate. Creamy pasta and shredded chicken are laced with spinach and artichoke hearts for a gourmet version of the comfort food classic.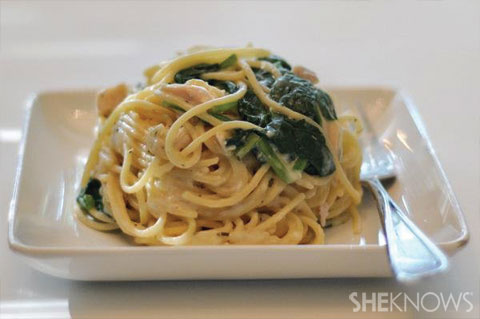 Creamy chicken spaghetti
Serves 6
Ingredients:
1 pound spaghetti
2 cups shredded chicken
6 cups chopped fresh spinach leaves
1 cup chopped artichoke hearts
2 tablespoons butter
2 tablespoons flour
2 cups milk
1/2 teaspoon salt
1/2 teaspoon pepper
1/4 teaspoon nutmeg
1/3 cup shredded Parmesan
Directions:
Bring a large pot of water to boil.
Add the spaghetti and cook according to package directions until al dente.
While the water is boiling and the pasta is cooking, melt the butter over medium heat.
Once the butter is melted, whisk in flour until smooth.
Gradually pour in the milk and whisk until combined.
Add the salt, pepper and nutmeg.
Bring the milk mixture to a simmer, stirring constantly, and cook until it has thickened enough to coat the back of a spoon.
Remove from the heat and stir in the Parmesan.
Drain the pasta and toss with the chicken, spinach and artichoke hearts.
Coat in the cheese sauce and allow to cook an additional 1 to 2 minutes to heat everything through.
Serve hot.
More fun takes on chicken spaghetti
Greek chicken spaghetti
Stir-fry chicken spaghetti
Spaghetti with chicken, portabella mushrooms and spinach