Pecan pie cobbler
Pecan pie cobbler means you get all of the goodness of pecan pie without any of the stress of a pie crust! Tons of pecans poke through a sweet filling, with the crust on top!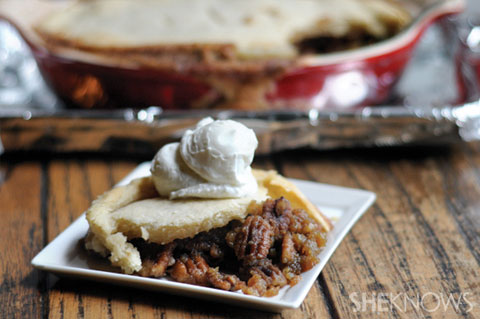 Pecan pie cobbler
Serves 6-8
Ingredients:
For the filling:
1-1/4 cups brown sugar
1/2 cup butter, melted
2 whole eggs
1 tablespoon flour
1/2 tablespoon vanilla
1 cup chopped pecans
For the biscuit topping:
1 cup all-purpose flour
1/4 cup butter, cubed and kept very cold
1/4 cup ice water
Pinch of salt
Directions:
Preheat oven to 350 degrees F.
Line a baking sheet with foil and grease a 2-quart baking dish. Set aside.
In a bowl, whisk together all of the filling ingredients except the pecans until smooth and combined.
Fold in the pecans. Set aside.
In the bowl of a food processor, combine the flour, butter and salt.
Pulse until the butter is in pea-sized pieces throughout the flour.
With the food processor on, stream in the 1/4 cup of ice cold water.
Continue to let the processor run until a ball of dough begins to form.
Pour the pie filling into the baking dish.
Take the dough and press it into a large flat disk the shape and size of the baking dish.
Lay the dough gently on top.
Bake for 45 to 55 minutes until the crust is golden brown and the pie filling is bubbly underneath.
Serve hot or at room temperature.
More sweet pecan pie recipes
Chocolate chip bourbon pecan pie
Pumpkin-maple pecan pie
Pecan pie bars