Buffalo chicken tortellini skillet
Buffalo chicken tortellini skillet is a perfect weeknight dinner all in one place. Toast some tortellini and toss with chopped chicken, ricotta and Buffalo sauce for an unforgettable meal!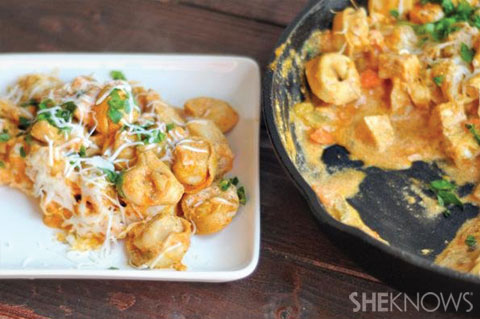 Buffalo chicken tortellini skillet
Serves 4
Ingredients:
2 cups chopped roasted chicken breast
1 cup chopped celery
1 cup chopped carrot
2 tablespoons olive oil
1 cup Buffalo hot sauce
12 ounces fresh tortellini pasta
1 cup ricotta cheese
2 tablespoons ranch dressing
1/2 cup shredded mozzarella cheese
Directions:
Heat a 10-inch ovenproof skillet over medium heat.
Add the oil, celery and carrot and stir to combine.
Cook for about 8 minutes until the vegetables start to become tender.
While the vegetables are cooking, bring a large pot of water to boil.
Cook the tortellini according to package directions until al dente, about 6 to 7 minutes.
When the tortellini are done, drain them and add to the skillet along with the chopped chicken and Buffalo sauce.
Stir to combine and cook for about 2 to 3 minutes.
Turn the oven on to broil.
While the skillet ingredients are cooking, stir together the ricotta and ranch dressing.
Remove the skillet from the heat and stir in the ricotta mixture.
Sprinkle the skillet with mozzarella cheese and place under the broiler for about 3 to 5 minutes until the cheese is golden and bubbly.
Serve hot.
More exciting Buffalo chicken recipes
Buffalo chicken cups
Buffalo chicken meatballs
Buffalo chicken cauliflower pizza