Roast chicken with citrus gravy
Roast chicken with citrus gravy kicks up that chicken night another notch! Tender juicy chicken is roasted and then drizzled with the most delightful gravy for a meal you'll want to have multiple times a month!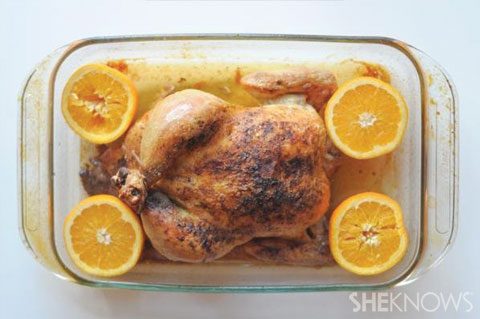 Roast chicken with citrus gravy
Makes 1 (6 pound) chicken
Ingredients:
1 (5 to 6 pound) chicken, washed and patted dry
1/4 cup butter, at room temperature
1 tablespoon salt
2 teaspoons black pepper
1 teaspoon paprika
1 large orange
2 cups citrus juice of choice, or a combination
2 tablespoons flour
Salt and pepper to taste
Directions:
Preheat oven to 425 degrees F.
Place the chicken in a large baking dish.
Slice the orange in half and stuff into the cavity of the chicken.
Using kitchen twine, tie the chicken legs together.
Rub the entire bird with butter.
Sprinkle with the 1 tablespoon of salt, 2 teaspoons of pepper and the 1 teaspoon of paprika.
Roast at 425 degrees F for 90 minutes, or until the chicken is completely done.
Drain off the drippings, cover in foil, and allow to rest while the gravy is made.
To make the gravy, spoon about 2 tablespoons of the grease from the drippings into a saucepan over medium heat.
Whisk in the flour until smooth, cooking for about 60 seconds.
Pour in the citrus juice, whisking constantly, until smooth and well combined.
Bring to a simmer over medium heat, stirring occasionally, until the gravy is thick and rich.
Season with salt and pepper as desired.
Serve hot over the roasted chicken.
More favorite roasted chicken recipes
Asian roast chicken
Stand-up roasted chicken
Honey and rosemary roast chicken