Ancho chocolate cupcakes
Ancho chocolate cupcakes utilize cocoa's spicy side! A puree of ancho chiles brings out the subtle spicy notes and even a little extra sweetness in these chocolaty cupcakes!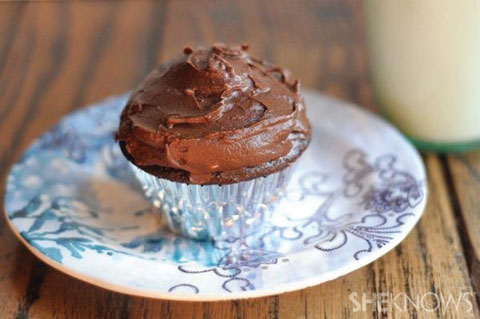 Ancho chocolate cupcakes
Makes 24 cupcakes
Ingredients:
For the cupcakes:
10 tablespoons butter, melted and cooled slightly
1-1/2 cups granulated sugar
3 whole eggs
1 tablespoon vanilla extract
1 cup milk
1/2 cup Greek yogurt
1/4 reconstituted ancho chile puree
1-1/4 cups flour
1/2 cup cocoa powder
1 teaspoon baking soda
1 teaspoon baking powder
1/2 teaspoon salt
For the frosting:
1-1/2 sticks butter, at room temperature
1/4 cup milk
1/4 cup strong brewed espresso
1 tablespoon vanilla extract
4 cups powdered sugar
Directions:
Preheat oven to 350 degrees F and line 2 (12-cup) muffin tins with cupcake liners. Set aside.
In a large bowl, whisk together the melted butter, granulated sugar, eggs, vanilla extract, milk, Greek yogurt and ancho chile puree.
Sift in the flour, cocoa powder, baking soda, baking powder and salt.
Gently fold together until just mixed.
Scoop the batter into the prepared cupcake liners and gently tap the pan on the counter to release any air bubbles.
Bake for about 15 to 20 minutes at 350 degrees F until a toothpick inserted comes out clean.
Let the cupcakes cool completely before frosting.
For the frosting, beat together the room temperature butter, milk, coffee and vanilla extract until smooth and creamy.
Stir in the powdered sugar until smooth and well combined.
Spread evenly on cooled cupcakes.
Even more cupcake fun!
Lavender cupcakes with Earl Grey icing
Mini strawberry lemonade cupcakes
Apple pie filled cupcakes