Steak fries
Steak fries are so simple to make and delicious to eat! Coat perfectly sliced potatoes in olive oil, salt and pepper and roast to perfection for a dippable side for any meal.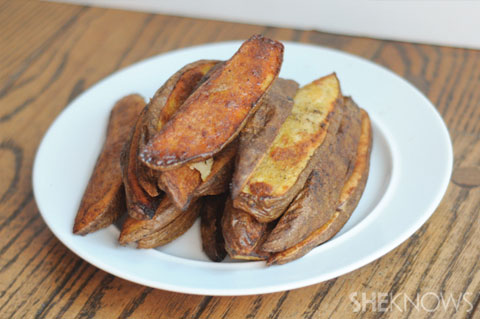 Steak fries
Serves 4
Ingredients:
2 large Russet potatoes, washed and dried
2 tablespoons olive oil
1-1/2 teaspoons salt
1 teaspoon black pepper
Directions:
Preheat oven to 425 degrees F.
Cut the potatoes lengthwise in half.
Cut each half into quarters, lengthwise.
In a large bowl, pour the olive oil over the potatoes.
Using clean hands, toss the potatoes and the olive oil together, making sure that the oil evenly coats all of the potatoes.
Place the oiled potatoes in a single layer on a baking sheet.
Sprinkle evenly with salt and pepper.
Bake at 425 degrees F for 35 to 45 minutes, flipping halfway through, until the outsides are golden brown and the inside is soft and tender.
Serve hot.
More delicious fry recipes
Shoestring fries with black truffle oil, sea salt and parsley
Taro fries with sriracha ketchup
Garlic sweet potato fries