Homemade Velveeta cheese
Some days just call for comfort food and for us, that's often served in the form of extra cheesy and creamy mac 'n' cheese. And what's more comforting and nostalgic than a bowl of Velveeta shells and cheese? Times have changed though and now we care about what's in our food. So instead of processed Velveeta, why not make your own?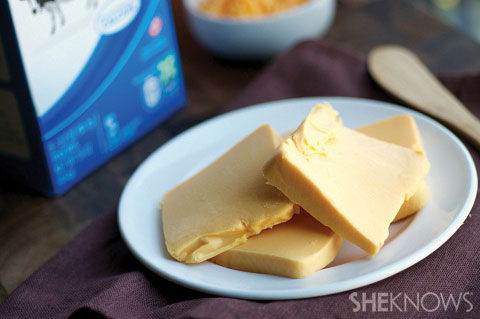 That's right, you can actually make your own Velveeta cheese! And don't worry, it's much easier than you think. Unlike the stuff you buy in the store, this version is made with ingredients you can easily pronounce and buy at your local supermarket. So what are you waiting for? I think a big bowl of shells and cheese is calling your name.
Homemade Velveeta cheese
Recipe inspired by Group Recipes
Yields 1 pound
Ingredients:
3/4 pound cheddar cheese, divided into 3 parts
3/4 cup boiling water, divided into 3 parts
1/4 cup + 1/2 tablespoon dry milk, divided into 3 parts
1/4 envelope unflavored gelatin, divvied into 3 parts
Directions:
Line a nonstick loaf pan with foil and spray with nonstick cooking spray.
Put 1/3 of the water, dry milk, cheese and gelatin into a blender. Blend until smooth and gelatin has fully dissolved. Pour into the loaf pan. Repeat 3 more times until the pan has been layered.
Cover with greased plastic wrap and chill for at least 24 to 36 hours.
More homemade cheese recipes
Homemade green bagels with chive cream cheese
Homemade ham raviolis with Swiss cheese sauce
Homemade strawberry cream cheese recipe