Broiled cinnamon sugar bananas
Dessert is only a few seconds away. Sliced bananas are sprinkled with cinnamon sugar and then broiled for a delicious brulee effect! Serve as-is or with a big scoop of ice cream!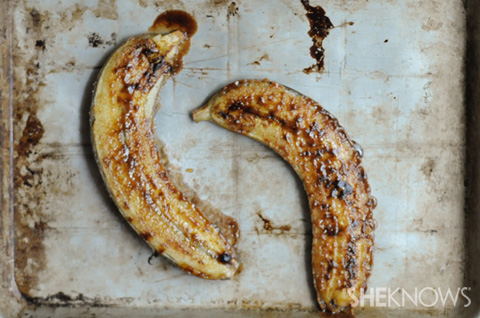 Broiled cinnamon sugar bananas
Serves 4
Ingredients:
4 large bananas
1/4 cup sugar
2 teaspoons ground cinnamon
Directions:
Preheat oven to broil.
Line a baking sheet with foil or parchment paper.
Slice each banana length-wise and place on the prepared pan cut-side up.
Stir together the sugar and cinnamon.
Sprinkle evenly over the sliced bananas.
Place the bananas directly under the broiler until the tops are golden and bubbly.
Serve hot or warm with ice cream or yogurt if desired.
Even more yummy banana treats
Grilled banana s'mores
Healthy banana split
Frozen banana bites