Peanut butter banana truffles
Peanut butter banana truffles are a delicious way to end a meal. Mashed banana is paired with peanut butter and a little cream cheese, and then scooped out and dunked in chocolate!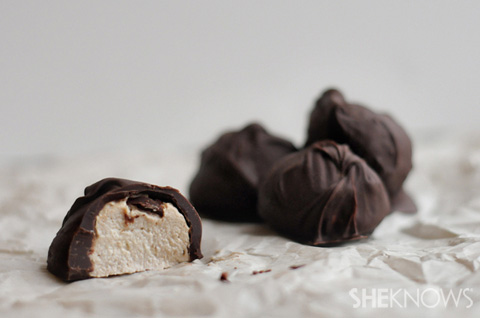 Peanut butter banana truffles
Makes about 12 small truffles
Ingredients:
1 large banana, very ripe
4 ounces cream cheese, at room temperature
1/4 cup creamy peanut butter
1 cup semisweet chocolate chips
1 teaspoon coconut oil
Directions:
In a food processor, combine the banana, cream cheese, peanut butter and powdered sugar until completely smooth.
Using a small cookie scoop dipped in water, scoop out the truffles and place on a baking sheet lined with parchment paper.
Freeze for about 2 hours before dipping in chocolate.
To make the chocolate, melt the chocolate chips and the coconut oil in a double boiler over medium heat until smooth.
Remove the truffles from the freezer and dip in the chocolate, being sure to place back on the parchment paper.
Refrigerate until the chocolate is hardened, about 20 to 30 minutes.
Store in the fridge until ready to serve.
More to-die-for truffles
Walnut streusel truffles
Vegan Christmas truffles
S'mores truffles