Strawberry jam rolls with orange glaze
Not that we don't all love a great cinnamon roll, but make an end-of-summer change to them by smearing strawberry jam in the middle and then topping them with a sunny orange glaze!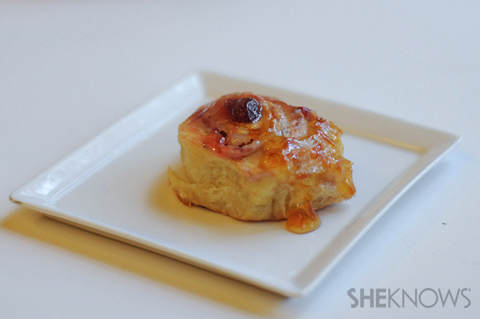 Strawberry jam rolls with orange glaze
Makes 8 rolls
Ingredients:
1 (8 ounce) can store-bought crescent dough
1/3 cup strawberry jam
1/4 cup orange marmalade
1/4 cup sugar
Juice and zest from 1 orange
Directions:
Preheat oven to 375 degrees F.
Carefully break apart the crescent dough can and spread out the dough on a lightly floured surface.
Pinch together all of the seams, and then roll the dough into an 8 x 10-inch rectangle.
Spread the strawberry jam in an even layer on the dough, leaving a 1-inch buffer at the top.
Roll the dough over the strawberry jam toward the top, pinching and sealing at the end.
Cut into 8 even pieces and lay them cut-side-down in an 8-inch cake pan lined with parchment paper.
Bake at 375 degrees F for 15 to 20 minutes until the dough is golden brown and done.
Allow to cool slightly while you make the glaze.
For the glaze, bring the orange marmalade, sugar, orange zest and orange juice to a simmer in a small pan, just until the sugar is dissolved.
Pour over the strawberry jam rolls and serve.
More takes on the traditional cinnamon roll
Cinnamon roll cream cheese stuffed monkey bread
Giant pumpkin cinnamon roll cake
Blueberry cinnamon rolls