Breakfast pasta
Serve up a whole-wheat pasta dish for breakfast to change it up! Bacon and fresh herbs are running through the whole-wheat pasta, and a perfectly fried egg on top helps make the sauce and bump up the protein!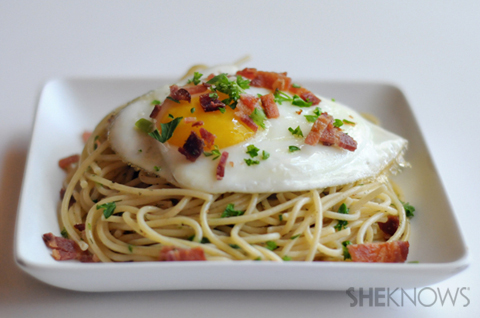 Breakfast pasta
Serves 1
Ingredients:
2 ounces whole grain spaghetti
2 slices thick-cut bacon, cooked until crisp and chopped
2 tablespoons chopped parsley
2 tablespoons chopped scallions
1 tablespoon olive oil
Salt and pepper to taste
1 whole egg
Directions:
Bring a small pot of water to boil.
Add the pasta and cook until al dente, about 8 to 10 minutes. Drain and return to pot.
Add the parsley, scallions, olive oil, salt and pepper.
Sprinkle in the bacon and toss to coat.
To cook the egg, heat a small skillet over medium-low heat.
Spray the pan with nonstick spray.
Gently break an egg into the pan, being careful to keep the yolk intact.
Cover loosely with a sheet of foil and cook for about 5 minutes until the white is set and the yolk is still runny.
Serve the egg atop the warm pasta.
More fun breakfast ideas
Yummy winter squash for breakfast
Chicken and pasta frittata
2-minute blueberry muffins for one