Apple cupcakes
Want to ensure your kids get good grades all year long? Forget giving their teachers a gift card to Staples or a regular apple, and give them a big plate of these adorable apple-shaped cupcakes!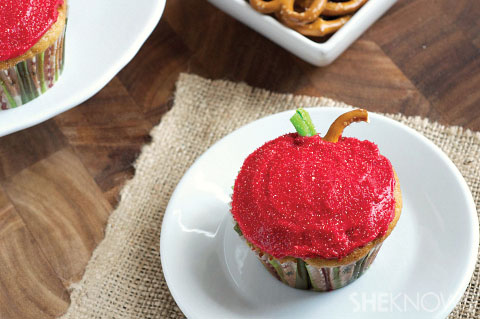 Don't worry — there are no worms in these apples, just a soft and gooey caramel middle! Not only will your kids' teachers love them, so will your kids! That is, if you decide to share. After you take one bite, you may not want to give any away!
Apple cupcakes
Yields 12 cupcakes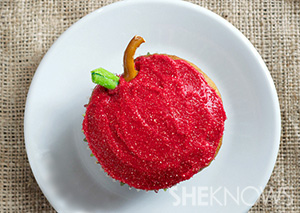 Ingredients:
1/2 cup unsalted butter, soft
1/2 cup brown sugar
1/3 cup white sugar
1 teaspoon vanilla
2 large eggs, room temperature
1-1/2 cups all-purpose flour
1 teaspoon apple pie spice
1/4 cup heavy cream
1/4 cup low-fat milk
1 tablespoon baking powder
1/2 cup chopped apples (we used Granny Smith)
Dash of salt
1 cup caramel (use this recipe)
Red frosting
Red sprinkles
Chopped pretzel sticks
Green sour candies
Directions:
Preheat oven to 350 degrees F. Line a muffin tin with paper liners and then spray the liners with nonstick cooking spray.
In a large bowl, cream the sugars, vanilla, eggs and butter together until creamy. Add in milk, heavy cream and vanilla. Stir to combine.
In another bowl, whisk the flour, baking powder, salt and apple pie spice together. Add to the wet mixture and mix well. Fold in the apples.
Fill each muffin cavity about 1/3 the way full with batter. Add a dollop of caramel and then top with more batter (until cavities are filled about 3/4 the way full). Bake for about 22 to 26 minutes, or until golden brown. Let cool completely on a wire cooling rack.
Once cooled, frost each cupcake with red frosting. Top with sprinkles and shake off excess. Stick a pretzel stick piece into the top (for the stem) and cut the green sour candy to look like a small leaf. Add next to the stick.
More fun with decorating
Easy cookie decorating without baking
Edible candy watermelon bowls
Black widow snack cakes