Breakfast banana Rice Krispies bars
When I was younger, Rice Krispies treats were my favorite. And I'm sure nowadays they still are for a lot of kids. This version is really simple and with a delicious twist. They're made with bananas and you can eat them for breakfast! And why not, when the main ingredient is cereal.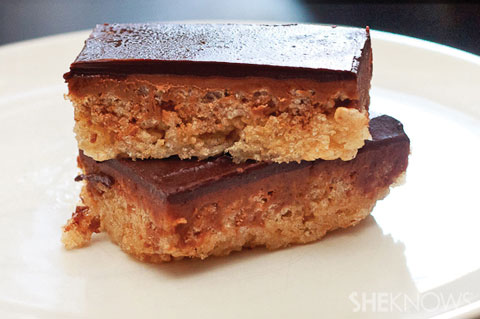 Not only is this breakfast treat easy to prepare, but it is a healthy way to start the day. I also spread some peanut butter and hazelnut chocolate on a few bars, which was incredibly tasty. Enjoy!
Breakfast banana Rice Krispies bars
Yields 16 servings
Ingredients:
5 cups Rice Krispies cereal
1/4 cup butter or margarine
3/4 cup marshmallows
2 ripe bananas, mashed
Peanut butter (optional)
Chocolate hazelnut spread (optional)
Directions:
Butter a 9-inch baking dish and set aside.
In large pot, melt the butter on medium heat. Add marshmallows and stir until melted. Remove pot from heat and stir in mashed bananas until combined. Then fold in the cereal.
Pour the cereal mixture into your baking dish and spread evenly. Allow to set about 30 minutes before cutting. If you want, spread on some peanut butter and chocolate hazelnut spread.
More breakfast recipes
Banana pecan overnight oatmeal recipe
Oatmeal cookie pancakes recipe
Fruit and yogurt in granola bowl recipe