4 Fun back-to-school breakfasts
The words "fun" and "back to school" don't often go hand in hand, especially for the little ones. We have a feeling you'll be facing a few "I'M NOT GOINGs" and slammed doors in your near future. Make the back-to-school Band-Aid a little easier to peel off by serving your kids one of these delicious (and healthy) breakfast recipes!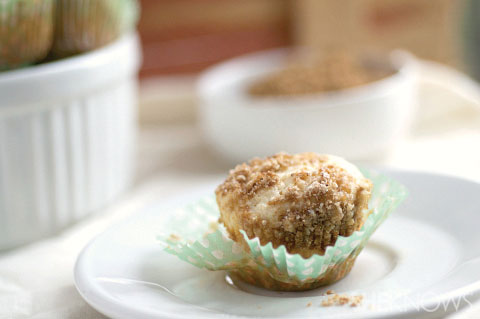 What kid doesn't like a cereal that tastes like a cookie? Instead of the sugar-filled boxes, make them a big batch of this butterscotch chocolate baked oatmeal or a basket of coffee cake mini muffins! They may not love school, but they'll love these breakfasts!
Mini coffee cake muffins
Yields 12 mini muffins
Ingredients:
1 cup all-purpose flour
1/4 teaspoon baking soda
1/4 teaspoon baking powder
Dash of salt
1 tablespoon unsweetened applesauce
1/4 cup brown sugar
1/2 egg
1/2 teaspoon vanilla extract
1 tablespoon heavy cream
2 tablespoons sour cream
For the topping:
2 tablespoons whole-wheat flour
2 tablespoons brown sugar
1/2 tablespoon cinnamon
1 tablespoon soft butter
Directions:
Preheat oven to 350 degrees F. Line a mini muffin tin with paper liners and spray with nonstick cooking spray.
In a large bowl, whisk the flour, baking soda, baking powder and dash of salt. Stir in applesauce, brown sugar, egg, vanilla, heavy cream and sour cream. Stir to combine.
Mix the flour, sugar, cinnamon and butter together with a fork until crumbly.
Fill each mini muffin liner 2/3 the way full with batter. Top with a teaspoon of topping.
Bake for about 15 to 20 minutes, or until a toothpick inserted in the middle comes out clean.
Butterscotch chocolate chip baked oatmeal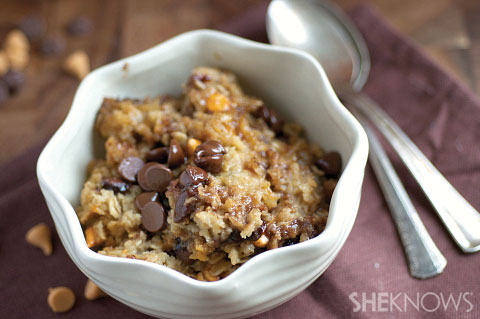 Serves about 5
Ingredients:
2 cups quick cooking oats
1/2 cup sugar
1/3 cup butterscotch chips
1 teaspoon baking powder
1-1/2 cups 2 percent milk
1/2 cup applesauce
2 tablespoons softened butter
1 egg, beaten
1/4 cup milk chocolate chips
Directions:
Preheat oven to 375 degrees F. Grease a baking dish with nonstick cooking spray.
In a large bowl, mix all of the ingredients together until combined. Pour mixture into the prepared baking dish. Bake for about 22 minutes or until fully cooked. (Mixture will no longer be gooey).
Breakfast tostada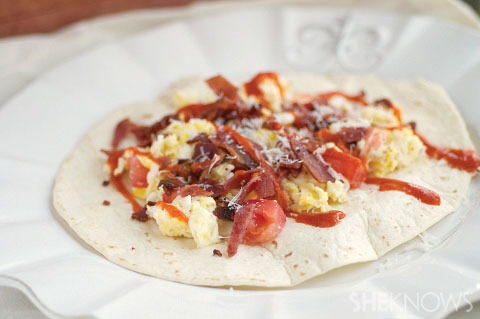 Serves 4
Ingredients:
4 medium tortillas
8 eggs
1 medium tomato, diced
Salt and pepper to taste
1/2 cup shredded Parmesan cheese
8 slices turkey bacon
Sriracha
Directions:
Preheat oven to 375 degrees F. Grease a cookie sheet with nonstick cooking spray. Place tortillas on the sheet and bake for about 8 minutes, or until golden brown.
In a large skillet, scramble eggs. Add tomatoes and Parmesan cheese. Add salt and pepper to taste. In another skillet, cook bacon over medium heat until crispy, about 6 minutes. Chop bacon up and mix with the eggs.
Top the tortillas with eggs and bacon mix. Garnish with additional cheese and sriracha.
Mixed berry peanut butter smoothie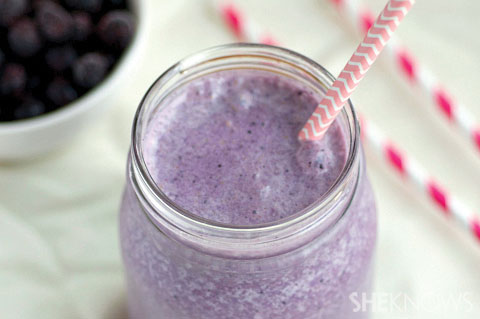 Yields about 2 smoothies
Ingredients:
2 cups frozen blueberries
1 cup Greek yogurt
1-1/2 tablespoons peanut butter
1 cup nonfat milk
Directions:
Place all of the ingredients into a blender and pulse on low until smooth and creamy.
More kid-friendly breakfast recipes
Buttermilk breakfast cake
5 Fabulous kid-friendly smoothies
Fruit tacos with chocolate tortillas