3 Healthy recipes for school lunches
Feeding your kids a healthy lunch isn't easy. You need recipes that you can throw together quickly that won't compromise your commitment to healthy eating.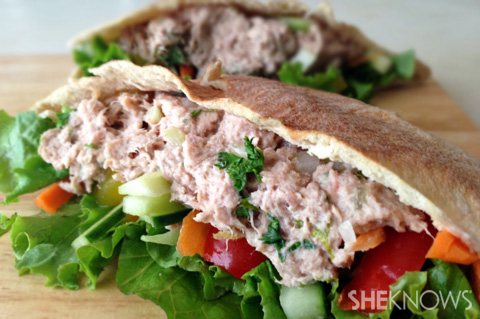 Looking for healthy lunch ideas so good your kids won't trade? We've got three recipes filled with familiar ingredients with clever changes they'll never notice you made.
Lower-fat tuna salad pita with fresh veggies recipe
Serves 4
This recipe for tuna salad (which can also be made with shredded chicken) is genius because it solves another lunchtime problem — room-temperature mayo. And we actually like it better than the fatty version.
Ingredients:
1 (11 ounce) packet tuna in water
2 ounces Neufchatel
1 stalk celery, finely chopped
1 tablespoon fresh parsley, finely chopped
3 teaspoons white onions, finely chopped
2 teaspoons pickles, finely chopped
1 teaspoon apple cider vinegar
1/2 teaspoon black pepper
1/2 teaspoon lemon juice
Lemon zest
3–4 large leaves leaf lettuce or field greens, rinsed
1 red pepper, seeded, ribbed and julienned
1 yellow pepper, seeded, ribbed and julienned
1/2 cucumber, cut into matchsticks
1 carrot, peeled and cut into matchsticks
2 pitas, cut in halves
Directions:
In a medium bowl, combine the tuna, Neufchatel, celery, parsley, onions, pickles, vinegar, black pepper, lemon juice and lemon zest. Mix until the ingredients are completely incorporated. Place it in an airtight container and refrigerate for at least 1 to 2 hours or overnight.
In the morning, warm the pitas briefly, just enough to open them easily but not so long that they harden when they cool. Stuff the pitas with the leaf lettuce, peppers, cucumbers, carrots and tuna.
Quick tip: If you have little ones who are veggie-phobic, chop the peppers, cucumbers and carrots into small pieces and mix it into the tuna.
Reduced fat munchables recipe
Serves 1
Kids love those cheese, meat and cracker packages and moms love the convenience of a meal, dessert and drink in one, but they're loaded with extra fat and sodium. Buy a compartmentalized plastic container and make your own... with a few adjustments from SheKnows.
Ingredients:
1/2 individual packet of low-calorie drink mix (e.g., Crystal Light)
1 (8 ounce) bottle water
6 low-fat multigrain crackers (e.g., Special K Multigrain Snack Crackers)
3 ounces 2 percent milk cheddar cheese, cut into thin cracker-size slices
2 slices no-preservative deli turkey, cut into cracker-size slices (e.g., Hormel Natural Choice)
1 tablespoon mustard
1/2 small apple, sliced
1 wedge lemon
1 tablespoon reduced-fat peanut butter
Directions:
Pour the drink mix into the bottle of water, replace the cap and shake, and then place the bottle in the freezer overnight. The frozen drink will help keep the rest of the lunch cold until it's time to eat, but will melt by lunchtime.
Place the crackers into 1 compartment and the meat and cheese in another compartment.
Squeeze the mustard into a small container with a lid (don't forget to provide a plastic knife or spoon for spreading).
Place the apple slices into a plastic baggie and squeeze lemon over it to prevent browning.
Put the peanut butter into a small container with a lid. Place the mustard and peanut butter containers into the compartmentalized container.
Hidden treasure chili recipe
Serves 4
Sometimes you need a little comfort food, but the traditional fare is chockfull of fat. This easy chili recipe is lower in fat than a cream-based soup and has some extra nutrients hidden inside.
Ingredients:
1 (15 ounce) can low-fat or turkey chili
1 carrot, finely chopped
1/2 red bell pepper, finely chopped
1 small zucchini, finely chopped
4 ounces 2 percent milk cheese, shredded
20 no-sodium crackers
Directions:
Heat the chili over medium heat and add the carrot, bell pepper and zucchini. Immediately spoon the mixture into 4 thermoses.
Bag it up with the shredded cheese and crackers in 2 small baggies on the side.
More healthy lunch ideas
Organic lunch ideas for kids
Lunches that give your kids energy at school
Healthy lunches for toddlers — Healthy lunch ideas for kids