Dinner Shortcuts: Grilled chicken and hummus pita pockets
These simple stuffed pitas are perfect for the weeknight rush. Grilled chicken and store-bought hummus never tasted so great.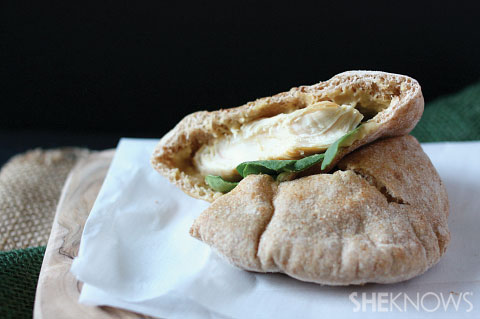 Talk about delicious! This protein-packed sandwich is a breeze to make and is a perfect option for the weekday brown bag lunch or a fast dinner. We used plain hummus but get creative by using your favorite flavor — garlic, lemon and even spicy. This is one delicious stuffed sandwich option.
Grilled chicken and hummus pita pockets
Yields 1 mini pita sandwich
Ingredients:
2 boneless, skinless chicken breast tenders
Salt and pepper, to taste
1 mini whole wheat pita
4 ounces hummus
1/4 cup baby spinach
Directions: 
Season chicken with salt and pepper and grill until fully cooked. Set aside.
Cut your whole wheat pita pocket in half and gently open.
Spread hummus inside the pita, stuff with spinach and add 1 chicken tender per half.
More hummus recipes
Hummus melt recipe
Hummus vinaigrette recipe
No-bake hummus pizza recipe