Dinner Shortcuts: Enchilada bubble bake
This bubble bake is packed full of spicy Mexican flavor. With the addition of spiced ground beef and chipotle, we take this dish over the edge.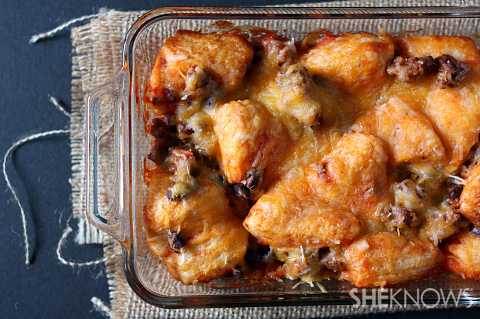 Do you love enchiladas? Do you hate all the preparation and rolling? You are in luck. This simple dinner dish gives you all the flavor of enchiladas but without all the hard work. Just wait until you see how amazing this flavor-packed casserole can be.
Enchilada bubble bake
Yields contents of 9 x 13-inch pan
Ingredients:
1 pound ground beef
1 packet taco seasoning
1 (10 count) roll refrigerated biscuits, each biscuit cut into fourths
1 (10 ounce) can red enchilada sauce
1 (8 ounce) can tomato sauce
1-2 chipotle peppers, finely diced (depending on desired heat level)
1 can black beans, rinsed
1 cup shredded Mexican blend cheese
Directions:
Preheat oven to 350 degrees F and spray a glass 9 x 13-inch dish with nonstick spray, set aside.
In a large skillet, brown ground beef until no longer pink. Drain fat, add in taco seasoning packet and prepare according to packet directions. Once the meat is ready, take it off the heat and set aside.
In a large bowl, add quartered biscuits, enchilada sauce, tomato sauce, diced chipotle peppers, black beans and prepared ground beef.
Gently toss to combine and add to prepared dish. Top with shredded cheese and bake for 30 minutes until fully cooked and the cheese is melted.
More enchilada recipes
Black bean and corn enchilada recipe
Chicken and avocado enchiladas for two recipe
Black bean and sweet potato enchilada recipe