Dinner Shortcuts: Greek meatball sliders
Frozen meatballs combine with homemade tzatziki sauce and pita bread to create the perfect sliders. You won't believe how easy and delicious this dish can be.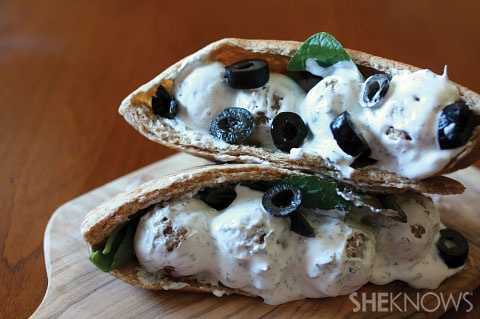 Meatballs are not just for tomato sauce and noodles. This flavorful pita pocket is stuffed with fresh baby spinach, feta cheese, black olives and meatballs covered in a quick tzatziki sauce. Your family is going to love this dish!
Greek meatball sliders
Yields 2 stuffed pitas
Ingredients:
1 (8 ounce) container plain Greek yogurt
1 teaspoon lemon juice
1/2 cup finely diced cucumber
2 tablespoons fresh chopped dill
1 clove garlic, minced
Salt and pepper, to taste
8 store-bought mini beef meatballs
1 whole wheat pita pocket, cut in half
1/2 cup baby spinach
1/3 cup feta cheese
2 tablespoons sliced black olives
Directions:
In a small bowl, add Greek yogurt, lemon juice, cucumber, dill, garlic, salt and pepper. Mix together and set aside while you prepare the meatballs.
Heat the meatballs in the microwave until hot.
Open your pita pockets and stuff with half the lettuce, feta cheese and black olives.
Add 4 meatballs to each pita and top with yogurt sauce.
More meatball recipes
Buffalo chicken meatball recipe
Spicy garlic baked meatball recipe
Baked turkey quinoa meatball recipe