Dinner Shortcuts: Doritos pie
Spicy Mexican flavors all baked together and topped with crushed Doritos. Hello simple supper!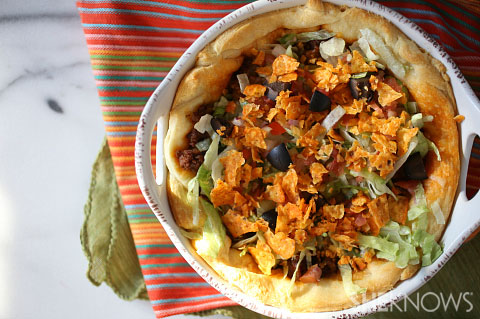 Wintertime is the perfect time for a casserole. I grew up eating different types of casseroles and my favorite is anything that includes taco seasoning. I love the spiciness of this casserole and I topped mine with a little lettuce and fresh salsa just to bring even more flavor. The crushed Doritos on top make it ever better!
Doritos pie
Yields 9-inch pie
Ingredients:
1 (8 ounce) package refrigerated crescent rolls
1 pound ground beef
1 packet taco seasoning
1 cup shredded cheese
1/3 cup salsa
1/2 cup shredded lettuce
1/4 cup diced black olives
1/2 cup crushed Doritos
Directions: 
Preheat oven to 350 degrees F and spray a 9-inch pie plate with nonstick spray.
Open crescent rolls and unroll each crescent. With the points going toward the center, place them in the pie plate. You're going to be making a crust out of the crescent rolls.
Once your crescent rolls are in the pan, press together the seams.
In a large skillet, brown hamburger and drain if there is a lot of grease.
Add in taco seasoning and 1/3 cup water. Mix and simmer until all the water is cooked off.
Add seasoned beef into the crust and top with cheese. Bake for about 25 minutes until the cheese is melted and the crust is browned.
Remove from the oven and top with salsa, lettuce, olives and Doritos.
Let it sit for 5 minutes and then slice into wedges.
More Dinner Shortcuts recipes
Baked taco recipe
Ranch oyster cracker recipe
Cheesy crescent dogs recipe