Dinner Shortcuts: Corn, chicken and Fritos salad
Is it a side dish or a main course? Whatever your heart desires! This is one packed salad that will blow your mind.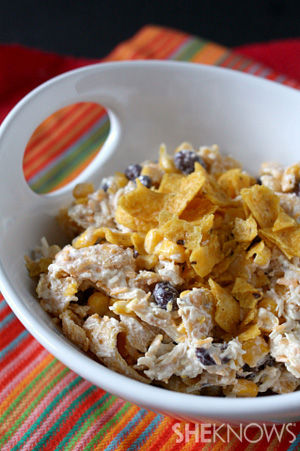 Need a quick weeknight supper? Maybe you just need a fast weekend lunch? This delicious corn, chicken and Fritos salad combines a few simple ingredients into a fabulous supper. We added just a dash of chipotle chili powder but if you are looking for something with less heat, try regular chili powder.
Corn, chicken and Frito salad
Yields 4 servings
Ingredients:
1-1/2 cups shredded chicken (you can use fresh or from a can)
1 (15 ounce) can corn, drained
1/2 cup cooked black beans
1 cup shredded cheese
1/3 cup chopped red onion
1/2-3/4 cup mayonnaise
1/2 teaspoon chipotle chili powder
6 ounces crushed Fritos
Directions:
In a large bowl, add shredded chicken, black beans, cheese, red onion, mayonnaise and chipotle chili powder. Mix together.
Let chill in the refrigerator and add crushed Fritos right before serving.
More chicken recipes
Baked chicken chimichangas recipe
Chicken, chickpea and avocado salad recipe
Sriracha chicken salad croissant sandwich recipe