Dinner Shortcuts: Deep dish biscuit pizzas
Hello deep dish pizza! It's all baked together in a muffin tin to create the perfect individual deep dish pizza.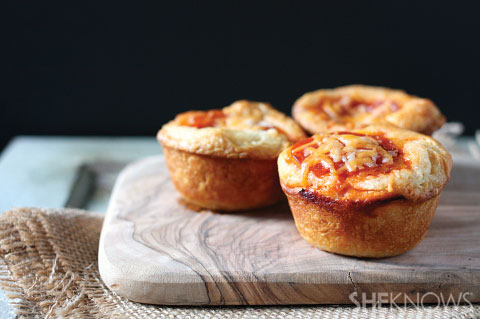 There is no need to wait around for hours while dinner cooks. These simple deep dish biscuit pizzas are full of flavor and can be customized to include just about any topping you love. We went with pepperoni but mushroom, onion and even green pepper would be delicious.
Deep dish biscuit pizza recipe
Yields 8 deep dish pizzas
Ingredients:
1 (8 count) pack jumbo refrigerator biscuits
8 tablespoons marinara sauce
8 tablespoons shredded cheese
Toppings: pepperoni, mushrooms, onions, green pepper, bacon, etc.
Directions:
Preheat oven to 375 degrees F and spray 8 cups with nonstick spray in a cupcake/muffin baking tin.
Open biscuits, separate into 8 biscuits and flatten each biscuit in the palm of your hand. Place into the sprayed muffin tin making it flat on the bottom and up around the sides.
Fill each biscuit with 1 tablespoon marinara sauce, 1 tablespoon cheese and top with your desired toppings.
Bake until fully cooked and the cheese is melted, about 15 to 20 minutes.
More pizza recipes
Vegetable pizza roll sandwich recipe
Stuffed portobello mushroom pizza recipe
Kale, butternut squash and pancetta pizza recipe