Dinner Shortcuts: Crescent bacon, egg and cheese sandwiches
Some days you just want breakfast for dinner. This is the dish for you! Crescent rolls, egg, cheese and of course bacon.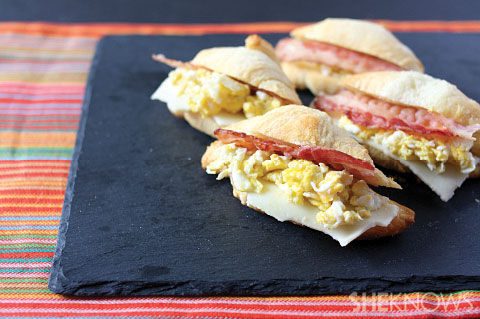 It's the morning and you're tired. These simple little sandwiches are perfect for an on-the-go morning snack or even as a light lunch option. We used freshly baked crescent rolls, scrambled eggs, sharp cheddar and crispy bacon to create the perfect way to start the day.
Crescent bacon, egg and cheese sandwiches
Yields 8 small crescent sandwiches
Ingredients:
8 store-bought mini-crescent rolls (found in the bakery section) 
1 tablespoon unsalted butter
2 large eggs, beaten
Salt and pepper, to taste
4 slices sharp cheddar cheese, cut in half
4 slices crispy cooked bacon, cut in half
Directions:
Cut mini-crescent rolls almost in half. Leave just a little piece still connected, and set aside.
In a skillet over medium heat, add 1 tablespoon unsalted butter. Let the butter melt and pour in beaten eggs. Season with desired amount of salt and pepper.
Move the eggs around in the pan until they are fully cooked and scrambled. Remove from heat.
Add the cheese slices to the rolls, top with hot scrambled eggs and half a piece of bacon.
More breakfast recipes
Oreo pancake recipe
Mushroom, goat cheese and thyme frittata recipe
Goat cheese and avocado stuffed portobello mushroom recipe