Make kid-friendly lunches with adult appeal
Stop making two separate lunches for you and the kiddos. We have some ideas that will make you and the kids happy — and full.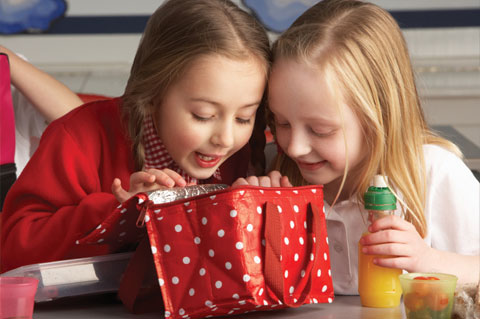 It's tempting to give up and buy pre-packaged meals to avoid making two or more lunches for each day. The key to making healthy lunches that will satisfy everyone is to do the hard parts for them, then put them in age-appropriate charge of their own lunch destiny.
On-the-go Mexican bar
It doesn't take long to whip up the ingredients for tacos, nachos or burritos the night before and it's easy to give each family member options without much work.
The night before, cook up some ground turkey with Mexican flavors. Portion it up into individual containers, then do the same with your choice of homemade light guacamole, reduced-fat sour cream, reduced-fat refried beans or black beans, chopped lettuce, diced tomatoes and onions, shredded cheese and salsa. Give everyone a couple of flour tortillas, taco shells or chips.
It's easy to make two batches of these at a time to have them twice in one week.
The salad bar
Each week, create a family lunch bar by preparing various ingredients ahead of time for the family to choose from for each day's lunch. They can choose from a salad, sandwich or wrap in any flavors they want and the combinations can change every day!
Cut up a selection of fruits and veggies and put them into snack baggies in individual servings.
Bag up two slices of several bread selections, a wrap or tortilla option alone in sandwich bags.
Put a sandwich-size serving of a couple of meats and cheeses in their own baggies.
Place small amounts of condiments like mayo, mustards and dipping sauces or dressings into small (disposable) containers or baggies.
If desired, keep prepackaged sweets on hand (snacks that come in large quantities should be prepackaged by Mom into approved amounts) — better yet, ask them to choose from your fruit bags.
Keep containers of yogurt on hand as healthy snacks, desserts or veggie or fruit dipping options.
Each night before bedtime or in the morning as you leave the house, your family can each select the individual items they want and pop them in their lunch box.
You can also provide easy-to-microwave single-serving soups or reheat frozen leftover soup or chili and pack it in a thermos for a warm component to the meal.
Chicken salad sandwiches
The night before, make up a batch of chicken (or tuna) salad using just the meat, mayo and maybe a little mustard (and any other ingredients the whole family likes) and put them into individual containers for each family member. Keeping it in its own container and allowing them to build the sammy at lunchtime keeps the sandwich from getting soggy.
Ask each family member to add their own pre-chopped extras (like diced pickles, onions or even condiments) to their bowl (make sure the bowls are color-coded or labeled).
They can also bag up their own sides like chips, veggies and dessert (in Mom-approved quantities, of course).
They should also choose a bread option and bag it separately. Alternatives to bread include lettuce, pita chips or crackers (a great option for little ones who can't build their own sandwich at lunchtime).
All the items that can be refrigerated can even be pre-bagged so each family member can grab-and-go the next day.
Lunch-packing tips
Keep cold foods cold with a frozen water or juice bottle. It will melt enough by lunchtime to drink.
Use a thermos to keep hot foods hot. If you have small quantities of multiple foods, put them in small containers or baggies and place them in the same thermos.
Don't forget to provide plasticware if they're supposed to build their own.
Many items you'd usually put in containers or ramekins can just as easily be used from a small snack baggie (mayo, mustard, etc.).
Be creative! Bounce off these ideas to create your own build-able meals.
More kid-friendly lunch ideas
Kid-friendly vegan lunch box recipes
From leftovers to lunches: 5 Kid-friendly ideas
Kid-friendly recipes from Jamie Deen