Oatmeal cookie pancakes
For your new Saturday morning pancake recipe, you may want to check this one out. The batter is simple and packed with healthy whole grains, cinnamon and oats. With these pancakes, I am positive you will not be disappointed. I mean, with the words 'pancake' and 'cookie' in the title, how could you?!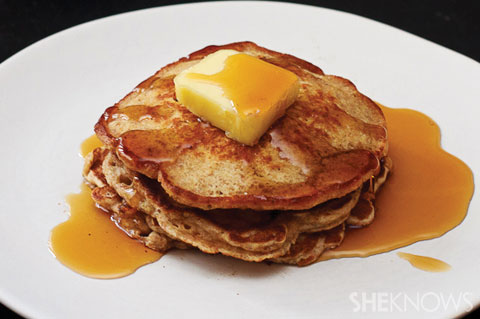 A healthy pancake recipe filled with oats and whole grains, your kids won't even notice it's good for them! They're perfectly delicious and filling for your busy kids.
Oatmeal cookie pancakes
Yields 4 to 6 servings
Ingredients:
1-1/2 cups whole wheat flour
3/4 cup quick oatmeal
1 tablespoon agave nectar
1 teaspoon baking soda
2 teaspoons baking powder
1 teaspoon salt
1 teaspoon cinnamon
2 cups buttermilk
2 eggs
1/4 cup melted butter
Maple syrup
Directions:
In a large bowl, mix together flour, oatmeal, agave nectar, baking soda, baking powder, salt and cinnamon. Create a well in the middle and stir in the buttermilk, eggs and melted butter until combined.
Heat a large griddle on medium heat, add 1 tablespoon of butter and pour about 1/4 cup of batter onto the griddle and heat until the top is bubbly. Flip and cook the other side and repeat until the batter is gone. Serve warm with syrup.
More pancake recipes
Peanut butter and jelly pancakes recipe
Spiced carrot pancakes with cream cheese glaze recipe
Amaretti pancakes with peaches and reduced Amaretto syrup recipe