Protein power strawberry smoothie
The great thing about smoothies is that they are incredibly versatile. You can get protein, antioxidants and a lot more from a glass of a vitamin-packed smoothie with whatever fruits and veggies that are in season from your local farmers market. Just combine strawberries, soy milk and oats for a tasty and filling healthy breakfast. Perfect for your busy Monday mornings!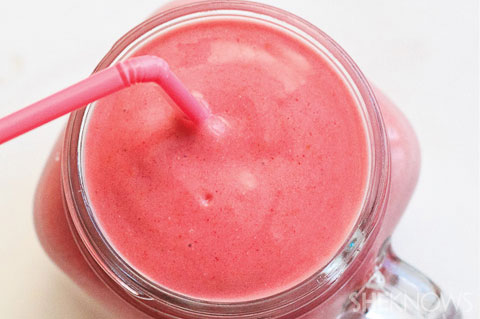 This strawberry smoothie recipe couldn't be easier or more delicious. It's a filling smoothie with a deliciously rich and creamy texture.
Protein power strawberry smoothie
Yields 2 servings
Ingredients:
1 cup soy milk
1/2 cup rolled oats
1 large chopped banana, fresh or frozen
2 cups chopped strawberries, fresh or frozen
2 teaspoons honey or agave nectar
1/2 cup ice
Directions:
Place all of the ingredients in a blender. Puree until smooth and creamy. Serve.
More smoothie recipes
Mango, cinnamon and basil smoothie recipe
Pink berry smoothie recipe
Cherry-almond smoothies recipe