Avocado toast with bacon and asparagus
Amp up the breakfast routine with fresh avocado smashed over perfect toast and then topped with crisp bacon and tender asparagus!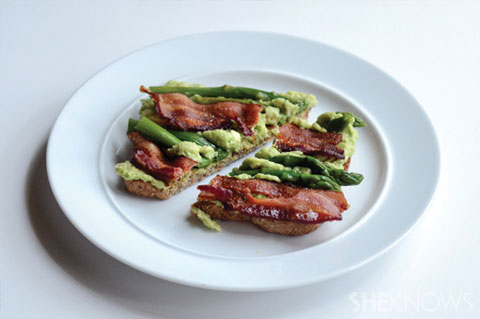 Avocado toast with bacon and asparagus
Serves 1
Ingredients:
1 slice whole-grain bread
2 slices bacon
6 asparagus stalks
1/2 ripe avocado
Salt and pepper to taste
Directions:
Preheat oven to 400 degrees F.
Line a baking sheet with parchment paper.
Place the bacon and the asparagus on the parchment paper and bake for 15 minutes until desired bacon crispness is reached and the asparagus is cooked through.
Place bacon on a paper towel to drain.
Toast the bread slice to desired darkness.
While the bread is toasting, mash the avocado with salt and pepper.
Spread the avocado on the toast, and then top with bacon and asparagus.
Eat immediately.
More kicked-up toast recipes
Avocado, bacon and tomato toast
Bacon and egg toast cups
Herbed toast