Peach upside down cake
Make this delicious peach upside down cake any time of year, although summer's fresh bounty is always hard to beat. Beautiful, tender peaches are baked under a layer of tender cake, and then flipped over and beautifully displayed on top. Serve warm with ice cream for a special treat!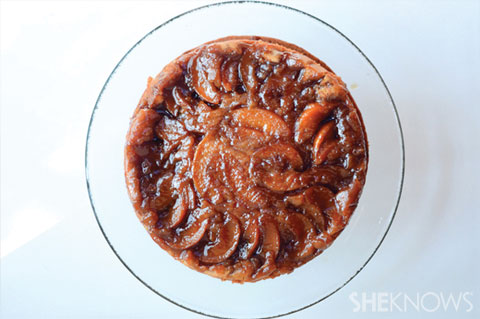 Peach upside down cake
Serves 12
Ingredients:
1 cup brown sugar
1/2 cup butter
4 large peaches, peeled, pitted and cut into eighths
1 cup canola oil
1-3/4 cups granulated sugar
4 whole eggs
3/4 cup plain Greek yogurt
1 teaspoon vanilla extract
2-1/2 cups flour
1 teaspoon baking powder
1/2 teaspoon salt
Directions:
Preheat oven to 325 degrees F.
Grease a 9-inch round cake pan and line with parchment paper.
Combine the brown sugar and butter in a microwave-safe bowl and microwave on high for about 2 minutes, stirring every 30 seconds, until the mixture is bubbly.
Carefully pour the brown sugar mixture into the prepared cake pan and spread to the edges.
Place the peaches on top of the brown sugar mixture in concentric circles.
In a large bowl, whisk together the oil, sugar, eggs, yogurt and vanilla until completely combined.
Sift together the flour, baking powder, cinnamon and salt and fold gently into the wet ingredients until just mixed.
Pour the batter evenly over the peaches.
Gently tap the pan on the counter to release any bubbles.
Bake at 325 degrees F for 60 to 75 minutes, or until the cake is golden brown and a toothpick inserted comes out clean.
Let the cake sit for about 5 minutes, and then gently run a knife around the edges.
Place a plate or cake stand on top of the cake, and then carefully invert allowing the cake to fall onto the plate.
Gently remove the parchment paper to show the peaches on top.
Serve warm or at room temperature.
More fun upside down cakes
Islander pineapple upside down cake
Apricot upside down cake
Maple plum upside down cake