Super easy steamed dumplings
So your friends are coming over for an impromptu game night at your house. You're too broke for takeout and you're not exactly Martha Stewart in the kitchen. Don't fret, we've got the perfect appetizer for you — easy steamed dumplings!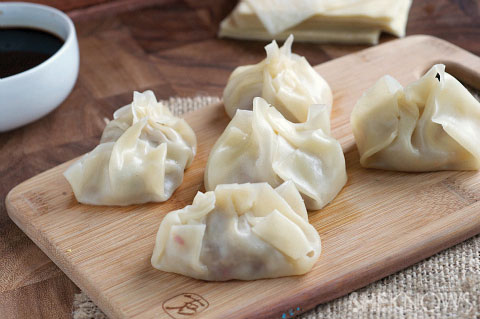 Don't they look like the ones you get at fancy dim sum places? Guess what, they taste even better! These easy-as-pie dumplings require only five ingredients and can be done in less than 10 minutes when made ahead. You'll impress everyone, including your family who hasn't seen you cook since that time you almost set the house on fire.
Super easy steamed dumplings
Yields about 50 dumplings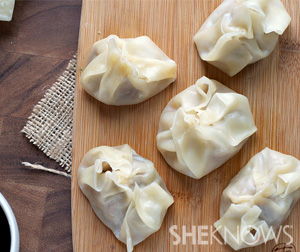 Ingredients:
50 wonton wrappers
1 tablespoon sesame oil
3/4 pound ground pork
2 cloves garlic, finely minced
1 tablespoon chopped chives
Salt and pepper to taste
1 egg white, beaten
2-1/2 cups shredded cabbage (we used broccoli slaw)
2 tablespoons soy sauce
Directions
Mix the pork, garlic, chives, sesame oil and cabbage together. Add salt and pepper.
To roll dumplings, place about 1 teaspoon of filling in the middle of the wonton wrappers. Fold the wrappers in half (to make a triangle) and then bring the sides into the middle. Carefully scrunch the top, squeezing the wrappers together to seal. Brush with egg whites and place on a foil-lined sheet. Repeat until all dumplings are filled.
To cook, place dumplings in a steamer (we used this one) for about 15 minutes. Serve with soy sauce and enjoy!
More easy Asian-inspired recipes
Easy Asian recipes
Easy orange chicken noodle stir-fry recipe
Asian beef steak with soy sauce recipe